Avon Haul Part 2 - SuperShock Mascara Intense Emerald and Perfectly Portable Liquid Eyeliner
8:00 AM
I hope that everyone had a wonderful and yummy filled Thanksgiving! Now that I'm back from a little stint with the families, I thought it was time to update the remainder of my Avon Haul from last week...

I love colorful mascara - I think my favorite so far are the Lash Blast Luxe mascaras I posted about earlier. I saw that Avon had expanded their line of the SuperShock Mascara to include colors (Burgundy, Emerald, Sapphire and Violet), so I thought I would try them out! I picked Emerald, strictly because I love green. I probably should have bought Burgundy or Violet because my eyes are hazel, but oh well! I haven't tried these out yet, so I will post a review and pictures once I do.

I also picked up one of the Perfectly Portable Liquid Eyeliner Markers in black. Like the Wet 'n Wild I posted about earlier, I just love the convenience and ease of these - they are perfect for a quick and simply line, without the fuss of waiting for the liner to dry like a typical liquid.




The closeup of the brush and color of the Intense Emerald Super Shock is below. It is quite similar to the Lash Blast Luxe green as well, even down to the shimmer in the color. I do think this is a bit more green, and less black, so we'll see how this shows up once applied.


The Perfectly Portable liquid eyeliner is in a tiny little pen, perfect for your purse or makeup bag. The brush is felt tip - think a calligraphers pen. This liquid is a bit more intense black than that of the Wet 'n Wild, so it goes over the
eyeshadows
much easier, without having a second or third coat.
The tip on this liner is very fine too, so you are able to be precise in your line, and add thickness as needed. It doesn't bleed into fine lines, and it doesn't smear once dried. I rubbed my hand vigorously over this once it was dried and nothing budged!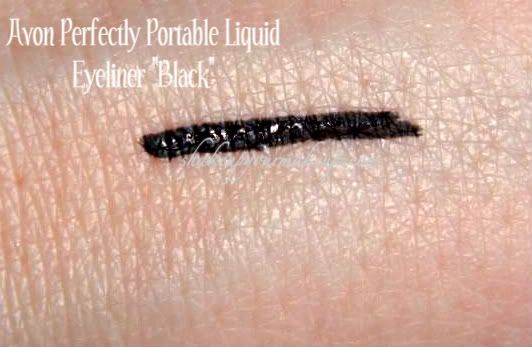 Like I said, I will post pictures of the mascara and eyeliner once used so everyone can see the total effect. Hopefully I will like these Intense Mascaras as much as the Lash Blast
Luxe
since they have a few different colors than Lash Blast...it might be a nice wait to expand my colored mascara collection!