Hard Candy "High Maintenance" Baked Eyeshadow Duo and "Voodoo" Lash Tinsel
5:15 AM
Happy Monday everyone!  I hope you all had a great weekend.  It's hard to believe that it was basically 70 degrees here, and in the second week of November!  Believe me, no complaints - the weather was gorgeous, crystal clear skies, and we could have the windows open for a few days which was nice as well!
During my very hectic week last week, I snuck over to
Walmart
to take a peek at the Hard Candy display I have been eyeing.  I have already purchased the Mr. Wrong
nailpolish
, which is so cool, but wanted to try out some of their
eyeshadows
.  I decided on the Hard Candy
Kal
-eye-
descope
Baked Eyeshadow Duo in "High Maintenance" - you don't get much more neutral than this!  Just to pick up something extra fun, I also got the Lash Tinsel in "Voodoo".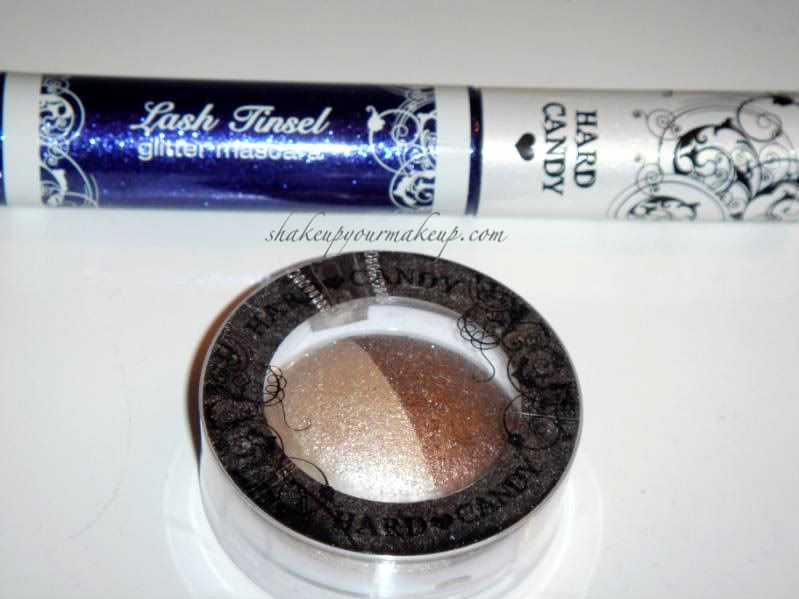 High Maintenance is a gorgeous neutral duo.  The right is a very frosty champagne, and the left is a chocolate brown with champagne frost.  They work great together to create a simple 1, 2, 3 look.  The texture of each color is very creamy and smooth.  The pigmentation in this particular eyeshadow is excellent as well.  I was very pleased with this, and at around $2.50 an eyeshadow color (total shadow retails for $5), this is a great buy!
As I have established thus far in blogging, I love glitter, so I had to pick up one of their Lash Tinsels.  I decided with Voodoo, as I thought it would look really good with the Bad Gal Blue Benefit mascara I received for my birthday.  This is a royal blue meets purple color.  The glitter is extremely fine and the brush is very thin and stiff.  It is easy to apply to each of your lashes, as well as your lower lashes without smearing it along your
eyeline
as well.  
I know several of you have purchased from the Hard Candy line - what has been your favorite item so far?  I saw their baked blushes, and I think that is going to be one of the next purchases I make when I wander over to the makeup aisle again!