Rimmel Volume Flash The Max and Wet n Wild Mega Eyes Defining Marker
8:00 AM
I am always on the lookout for new mascaras, and Rimmel never seems to fail me with this respect. While wandering through the sale section of Halloween cosmetics (you can't beat 75% off false eyelashes!), I found that Rimmel has come out with another (and newer) version of their Volume Flash mascara - this one called Rimmel Volume Flash The Max. I also found Wet n Wild Mega Eyes Defining Marker eyeliner.

Rimmel Volume Flash The Max comes in the prettiest color package - I love bright pink, and it definitely stands out amongst the loads of mascaras I have in my drawer (especially those in black packages!). The tube is thick, so it's easy to hold onto and use. The brush is stiff, not flimsy, and reaches in between each lash (picture of the brush-head below).


Rimmel puts it best:

"Meet the latest addition to Rimmel's successful Volume Flash range – The Max Volume Flash Mascara. It delivers up to fourteen times more volume for big, super-charged lashes. Take your eyes to the max with the supersized, perfect-fit brush that works in perfect synergy with the exclusive quick setting Lash Expand formula. The cushion-like collagen effectively binds to each individual lash, while the keratin works to smooth the surface of the lashes, leaving them stronger, sleeker and shinier.Capture that edgy London look than with big, bold attention-grabbing lashes."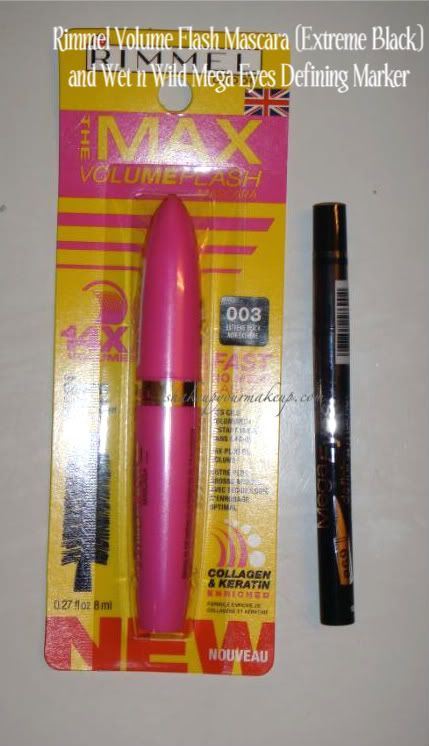 The brush reminds me of the Maybelline Colossal Mascara brush, but not quite as clunky. The formula of this mascara is very smooth and isn't clumpy at all. Because of the viscosity of the mascara itself, you can layer and layer without looking like a spider when you're done - not to mention, you don't need more than two coats to achieve rich, thick and lush lashes.


As I mentioned above, I also discovered the Wet n Wild Mega Eyes Defining Marker. I believe this only comes in black right now, which is fine by me! I love
eyelining
markers - mark. (Avon) had one a while back that I used so often it dried up and then they discontinued it, so I'm thrilled to have a replacement. I find that these are so much easier than pencils, your standard liquids, and even gel eyeliners because it is like you are drawing in your eyes, not using a brush or
utensil
to do the drawing for you.
"Don't be afraid to make your mark! This easy-to-handle liquid pen features a soft felt-tip edge for great definition and effortless application. The quick dry formula wears all day and is smudge-proof. Designed to help you create any look: draw a thin line for a subtle, yet well-defined eye or go dramatically bolder with a thicker line.

Features
Soft-felt tip edge for easy application
Long-lasting, quick-dry formula
Application Tips
Trace the natural lash line of your eyes starting at the inner corner of the top lid. Repeat on the lower lid. "

Below is an extreme closeup of the applicator - it looks like a calligraphy pen! It's
flexible
, and very forgiving when you apply. The line is very smooth and it's not so dark that it looks like you used a Sharpie on your eyes.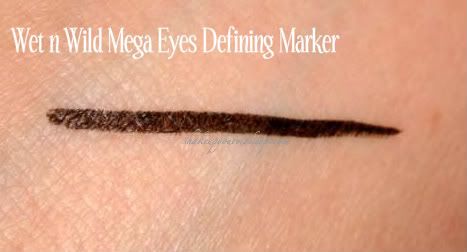 Although I didn't use the eyeliner in the look below, I did want to give you an opportunity to see the
Rimmel
Volume Flash The Max mascara at work. This is my very easy, go-to mascara, so I'm thrilled I found it (and only had to spend about $5 for it, too!). As I've said in the past, I think
Rimmel
makes some of the best mascaras out there.
Face:
Bare
Escentuals
Foundation "Light"
Bare
Escentuals
Hydrating Mineral Veil
Sassy Minerals "Plus One" Blush
Eyes:
MAC Paint Pot "Painterly"
Sassy Minerals "Dirty Martini" - inner corner
Sassy Minerals "Pandora's Box" -
outer corner, crease, lower

lashline

, and wet as eyeliner
MAC Pigment "Vanilla" - highlight
Rimmel
Volume Flash The Max mascara
Lips:
Revlon Color Stay Lipstick - Rich Raisin