Physician's Formula Shimmer Strips Gel Eyeliners: Glam Collection for Hazel Eyes and Green Eyes
10:18 AM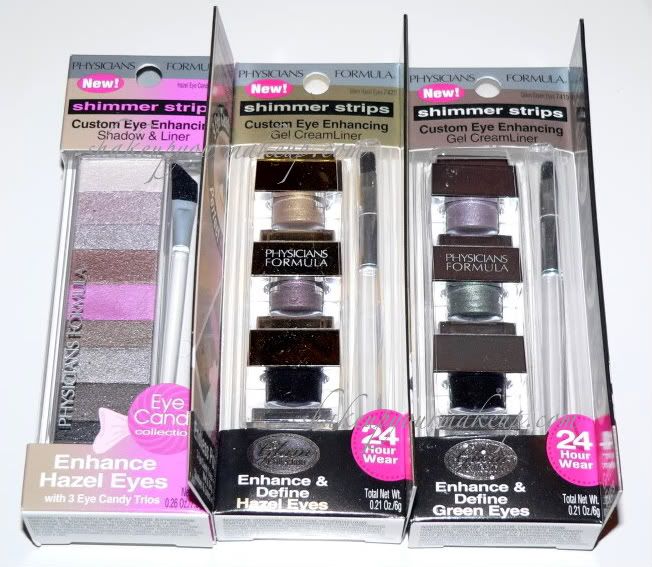 I went on a bit of a Physician's Formula splurge when I found the
display at Meijer
a few weeks ago, and now I am *finally* going to post the swatches for you to see. I am absolutely in love with the
original set of Physician's Formula Shimmer Strips Gel Eyeliners
I own, so picking up these metallic sets (called Glam Collection) was a no-brainer! I picked up the set for Hazel Eyes (gold packaging) and Green Eyes (mauve packaging). Closeups and swatches are below...
First up, the Hazel Eyes. This is a set with warmer colors - including a gilded gold, frosty plum and black with gold shimmer.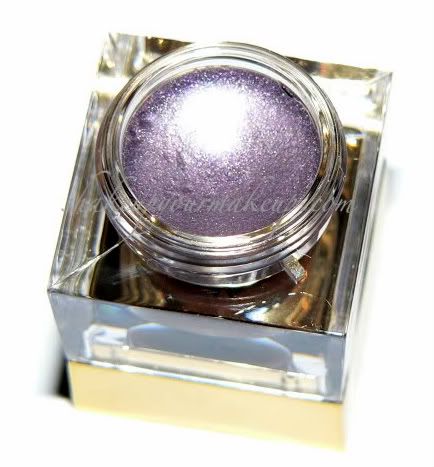 Secondly is the Green Eye set, which is on the cooler side. Again this comes with a purple-shade, this one being more of a lavender or lilac, a deep silvery-jade and black with pewter shimmer.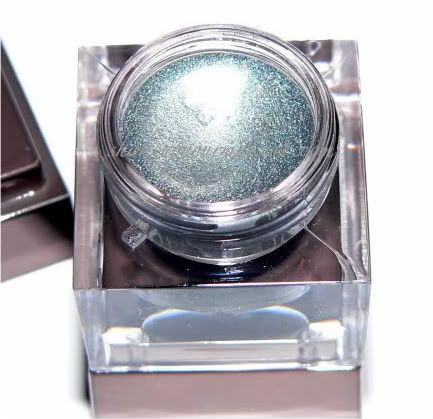 My swatches are below - the Hazel Eyes is on the left and the Green Eyes is on the right.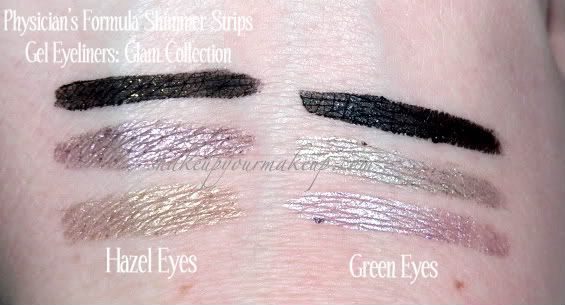 Now, I will say, I have read mixed reviews about these Shimmer Strips, particularly the pigmentation compared to the original set of liners. Yes, these are a bit different - the liners are still as creamy and easy to apply as ever. The black is a deep black, and the above swatches are one swipe of the liner. As in the original set, these blacks are VERY dark and pigmented, and glide along effortlessly. The metallic shades are just that - extremely metallic! I didn't have any problems with pigmentation - they aren't exactly dark or intense shades, so I'm not sure what the concern is here. These are gorgeous on their own, but work exceptionally well on top of the black liner to give it some more dimension and shine. Just as the original set, all applied extremely easily to the waterline, and didn't budge all day. I will say, at $10.99 a pop, Physician's Formula gel liners are my absolute must have and go-to liners...forget all the high end, fancy schmancy ones available - I get no irritation, no smearing, flaking or cracking - just perfectly applied, long lasting, beautiful liner all day long!
So, who has tried these out? What are your favorite shades? I must go back and get the set for brown eyes - I am totally lemming the copper color!