Avon SuperSHOCK Gel Eyeliner Pencils "Bronze", "Shimmering Khaki", and "Steel"
8:00 AM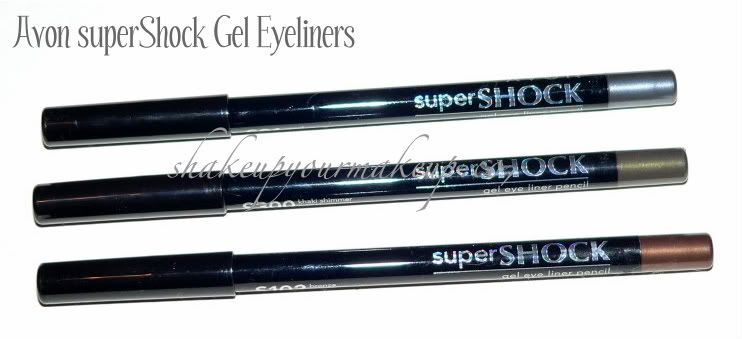 Unfortunately, I think these have been discontinued, but I thought I'd review them anyway in case you are able to come across them in the future. Mini-rant...don't you just hate it when you find something you like, only to discover it's been discontinued! *Umph* Oh well, I guess I should be happy I got the three I did!
Anyway, Avon came out with an extension to the superSHOCK line, which had mainly focused on mascaras in the past. These gel eyeliners are compared to the Urban Decay 24/7, MUFE Aqua Eyes Eyeliner, and in my experience the Sephora Flashy Eyeliners.
Let's talk pigmentation and staying power - these are amazing. They go on extremely smooth and creamy, without any tugging or pulling. The colors are gorgeous and have pigmentation out the wa-zoo! I can't express how impressed I am with these! Not only did they last all day, once I applied them, the liners didn't smear, run, or trail down my eyes.
Aren't the colors gorgeous? I love how shimmery and bright they are, especially for neutrals. Were you lucky enough to grab one (or all) of these before they were disco'd? I am hoping they are going to re-launch these, or even come out with new shades...I would hate for these to be a goner!
(Note: the Black to the left is a swatch of the 24K Gold mascara from the previous Avon post).