Swatches - Bare Escentuals Champagne Diamonds Kit
8:00 AM
As I posted earlier, I ordered the Champagne Diamond Bare
Escentuals
kit on
QVC
a few weeks back when it was the
Todays
Special Value.  This set is composed of a 3 eye colors, 1 radiance, 1 blush, mineral veil, 3 brushes and a lip color (not shown because it is in my purse!).
The three brushes are great.  On the far left is their new liner brush, which I am obsessed with.  It reminds me of a detailed brush for painting - it is somewhat stiff, has nice long bristles and is thin and flat, so you are able to get a precise line, or a bit of a thicker line if needed.  The second brush (middle) is their crease brush, which I haven't tried yet, but I am so excited about. The third and final brush is their soft cheek brush, which is on the far right.  This reminds me of a bit smaller and less dense version of their old flawless face brush.
The blush in this set is called "Rose Diamond".  This is a beautiful cooler toned coral color with a hint of shimmer due to the crushed diamonds.  
My new HG and favorite highlight is Flawless Diamond, below.  This is literally the color of mineral veil in the container, with tons of sparkle/shimmer.  If you apply it dry, this adds a sheer shimmer to any color.  Once applied wet, it is an intense ivory with sparkle.  Absolutely perfect!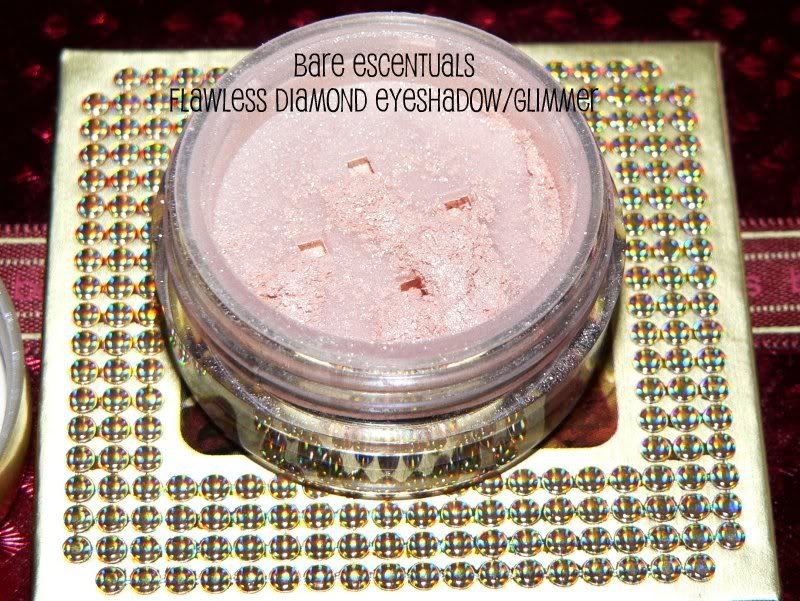 Smokey Diamonds is their eyeliner/shadow.  This color is beautiful!  Perfect if you don't want black, but need a dark liner.  The color is a deep charcoal color with tons of sparkle.  If you apply it dry, the sparkle isn't so evident.  If you apply this wet as a liner, it is a beautiful dark shimmery charcoal.  This is perfect for creating that beautiful smokey eye that is so
it
 now.
Cognac
Diamond is the other eyeshadow that comes in this set.  In the pot it is a beautiful deep chocolate with gold shimmer.  Once you apply, it transforms into a color that compliments the gray/charcoal of the Smokey Diamonds.  Together, the two make a perfect smokey look.  The Cognac is a bit more warm and the Smokey Diamonds adds such a beautiful depth of color in the corners and around the lower
lashline
.
Champagne Diamond Radiance looks a bit intimidating in the pot.  I thought, "Wow, this is going to be dark!", but in reality it adds the beautiful glow that one needs, especially this time of year!  I think this would also make a great blush, if applied liberally, and a beautiful eyeshadow.
Swatches are below - these are all applied dry, but two times on each so you can get the color.  Obviously, as with any Bare
Escentauls
product, you don't need a lot to get such a beautiful payoff!! 
I will be doing some
EOTD's
/
FOTD's
later this week with these gorgeous colors!