My Sephora Friends and Family 2008 Purchases
8:00 AM
So I did some major damage this year with the Sephora Friends and Family event. How could I not, with free shipping and 20% off, I was ready!! Although I debated about the Urban Decay Book of Shadows, which I really wanted, I decided to downsize my cart ($$$) and ordered the Urban Decay Primer Potion instead (which I am thrilled about!).

As you can see below, I ordered the UDPP, Bare Escentuals Extreme Glimmers, Bare Minerals Ruby Collection and the Nars Super Orgasm Blush. I also received my QVC Today's Special Value, the Bare Escentauls Champagne Diamonds collection at the same time, so I've included it in the picture, as well. The samples I received were some perfumes, none of which were really for me once I wore them, but I'm glad I tried!

I swatched the collections tonight, but don't have time to upload the pictures, so hopefully tomorrow I will do that - they are beautiful!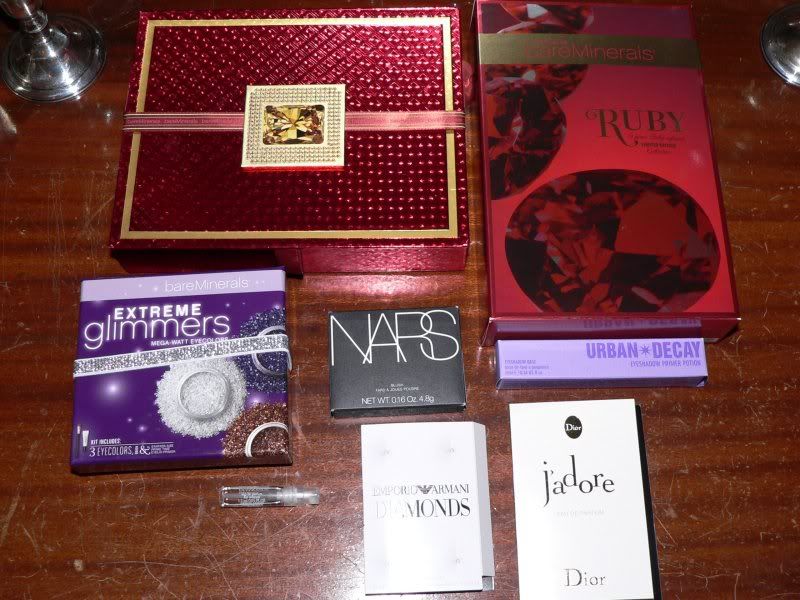 I am definitely a glitter girl, and absolutely fell in love with the Nars Super Orgasm. I know that a lot of people don't like chunky or glittery items, so if that is the case, you probably want to stick to the basic Nars Orgasm blush, as it still has the shimmer but doesn't have the "glitter" that you see in the picture below. The color of this blush is stunning, though. It is a really pink/coral color with golden shimmer undertones, and it definitely blends right in and is beautiful on. Everyone is right about Nars blushes, though - they are wonderful!