The weather has finally broken into the 50's and 60's here, which means fall is right around the corner! In honor of the cooler weather, I decided to break out my turtleneck sweaters and my bronze eyeshadows for a fall inspired look. This is another go-to-any-time pallet, as the colors work so well together!

This was also the first time I used my mark. Lillith eyeliner, which I really like. The color is a bit on the light side, but it did add just enough definition to work well.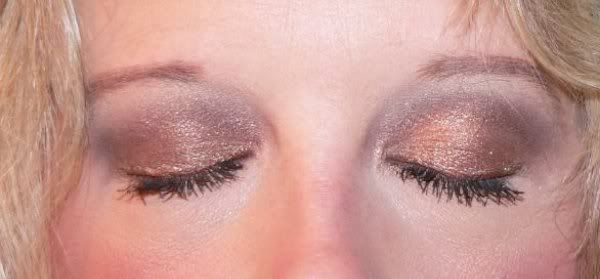 Face:
Fyrinnae Rice Primer
Serious Skin Care Mineral Foundation "Medium"
MAC Mineralize Blush "Love Thing"

Eyes:
Bare Escentuals "Hottie" - foiled on lid
Bare Escentuals "Sex Kitten" - crease
Bare Escentuals "White Gold" - high light
mark. Hook Up Liquid Eyeliner "Lillith" - upper liner
Sephora Waterproof Eyeliner Pencil "Gold" - lower lashline
Maybelline Colossal Mascara "Black"

Lips:
Avon Color Rich Lipstick "Sparkling Peach"