EOTD - Golden Olive
8:00 AM
I have been having so much fun playing around with warm golds and browns! They are so easy to coordinate and can make a stunning yet neutral look!

Some of my new favorite eyeshadows are the Jesse's Girl Eye Dusts, which have some great staying power and beautiful colors. I chose the eye dust in Sunlit Cactus to play with this time. This color comes off as a burnished gold, but also has tons of olive green iridescence to it, making this a fun color to play with.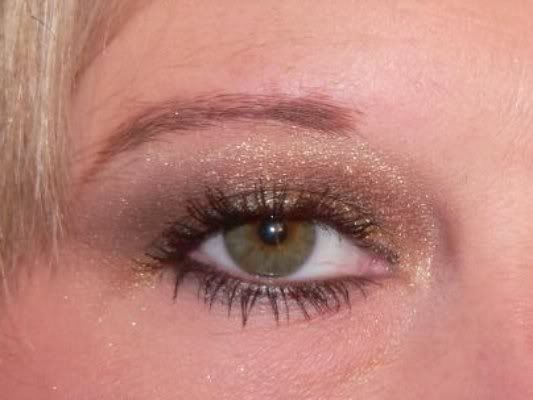 Jesse's Girl Eye Dust "Sunlit Cactus" - foiled on lid
Bare Escentuals Glimmer "Sex Kitten" - dry in crease and pulled down into corner of lid
Jesse's Girl Eye Dust "Sparkles Gold" - foiled to hilight
mark. Hookup Liquid Eyeliner "Bronze Edge" - upper lid
Miliani Eyeliner Pencil "Brown" - lower lashline
Maybelline Colossal Mascara "Black"


Again, here are some pictures of the Jesse's Girl Eye Dusts, which includes swatches of each. Sunlit Cactus is on the bottom right of this first picture, and swatched first below.