Review: Physicians Formula 100% Natural Origin Jumbo Lash Mascara
9:30 AM
Obviously, being from Phsyician's Formula, this is going to be as natural as it gets. From the website, the product is
the following:
Organic Wear 100% Natural Origin Jumbo Lash Mascara
Description
100% of the Total Ingredients are from Natural Origin.
47% of the Total Ingredients are from Organic Farming.
100% Dramatic Volume & Glamour.
OrganiSoy® Moisturizes and helps nourish lashes.
Eco-Olive(r) a natural antioxidant, shields lashes from harsh environmental aggressors.
I thought I'd take a picture of the back label because it gives tons of good information about what this mascara is about, and what's in it. You can click the image below for a larger view if it's too hard to read on your computer.
The packaging on this guys is very large. At first, I thought it might be cumbersome, but it's actually quite well thought out. The outside is a gorgeous green "metal" with a leaf handle. The actual brush handle sits quite comfortably in your hand, and is what I would consider ergonomic as far as mascaras go.
The brush is a very large, rubber bristled brush, similar to Lash Blast, but I would say it is even larger/fatter than that. The tip tapers in a little bit, but doesn't come to a point. Overall, the shape stays pretty uniform throughout.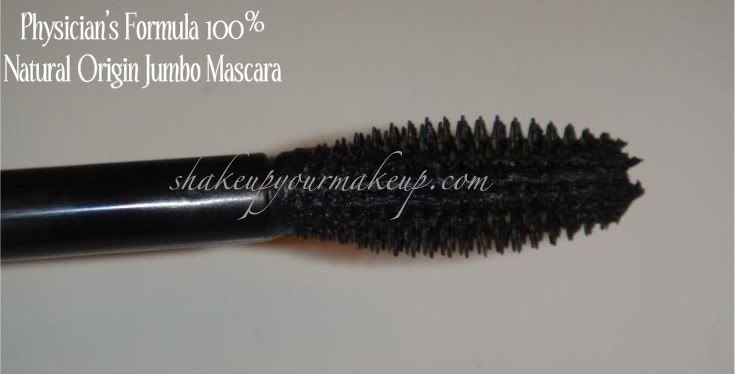 The consistency of the mascara is what I would expect from a volumizing mascara, although to me it was a bit on the dry side. This wasn't clumpy at all, and the thickness and complexity of the brush allowed the product to pull through on the lashes, leaving even application across the board. The color is nice - it's an intense deep black (I got "Ultra Black", although there is just a basic "Black" as well). I did not experience any flaking, smudging or smearing. There was absolutely no irritation for me. Removal was quite easy as well - I didn't need any makeup remover, instead I used my Philosophy Purity and the Clarisonic. Nothing was left behind upon removal.
Below is a snapshot of my lashes with two coats. I will say, this does what it says: volume. There was little to no lengthening of my lashes, and I couldn't get any curl out of it. With that said, if you have naturally long lashes, and are just looking for some volume, this would be a great natural alternative to some of the synthetic or high-priced mascaras around. For me, I need the best of both worlds, so I require some lengthening in my mascara as well. If I could just get these puny little lashes to grow out a little bit longer, this might just be a great mascara for me! But, alas, I will probably only use this on days when I'm wearing little makeup and just want some mascara on.



So, final thoughts? I'd give this mascara a B to B+.

Retail Price: Approximately $9.99-10.99

Where to purchase: CVS, Walgreens, Meijer, Walmart...anywhere that carries Physician's Formula

Product: 3.5 out of 5
Price: 4 out of 5
Packaging: 5 out of 5
Overall: 4 out of 5
Would I purchase again? Right now, probably not. Not because this is a bad product by any means, but because I am not getting the length out of the mascara that I like to see on my lashes. Like I said, this is a self proclaimed Volumizing mascara, and it does just that!



Have you tried this mascara? What about their regular line: either the Organic Wear Natural mascara or any of the other types? What do you think?