Swatches: geoGIRL Cosmetics from Walmart - Mineral Blushes "QTPi", "URA*", and Cream Blush "KOC"
9:34 AM
A few months ago, Walmart introduced a new beauty lined targeting tweens and teens called
geoGIRL
. Now, this caused a lot of buzz around the Internet and actually in national media. Now, I understand that there is an age that is too young to be wearing makeup out and about, but am I the only one who remembers playing dress up and trying my mom's makeup when I was little? And, I'm pretty sure that being eco-friendly wasn't part of the repertoire back in the early 80's either. Regardless, and more importantly, my mother was in control of where, what and when I was allowed to wear the makeup. It's not like I was paroozing around town on a day-to-day basis with a full face of makeup at age 10! Ok, enough of my pontificating...
Outside of all the hoopla, I thought it might be nice to see what this brand was all about, so I picked up a few of the blushes available. Besides the broad spectrum of products available (from skincare to lipstick), I was intrigued by the packaging of geoGIRL. They truly are targeting an "ecofriendly" audience - the packaging is made of cardboard and is biodegradable. The only plastic I found in my blushes were the sifter in the mineral blushes, and the "push up"mechanism of the cream blush.
The first thing I noticed about the product was the packaging's details. Like I said above - Ecofriendly is the focus here. Not only is the outer packaging cardboard and discuss the product inside, but it actually has stories about what "tweens" are doing to keep the Earth a clean and healthy place. Each color has a different snippet or idea as to how to reuse products, which I find pretty unique.
Something else I found interesting is the the slogan "DIRT" or DoTheRightThing. This focuses on what the products are made of. Straight off the packaging:
"geoGIRL produts are free of Parabens, Phthalates, Sulfates, Propylene Glycol, PABA, DEA, Petrolatum, Paraffin, Synthetic Fragrance, Synthetic Color (in Skincare), Carmine (crushed beetles), & Animal Ingredients (except cruelty free honey, laolin and beeswax)."
Click on the images below for a larger view...
First up, QTPi: a bright coral with light pink shimmer. The packaging has cute little hummingbirds outlining the lid. When you take the lid off, you'll see the typical sifter-style filter to prevent spillage. There is also a mini puff to apply, although I threw mine in the trash to use my blush brush.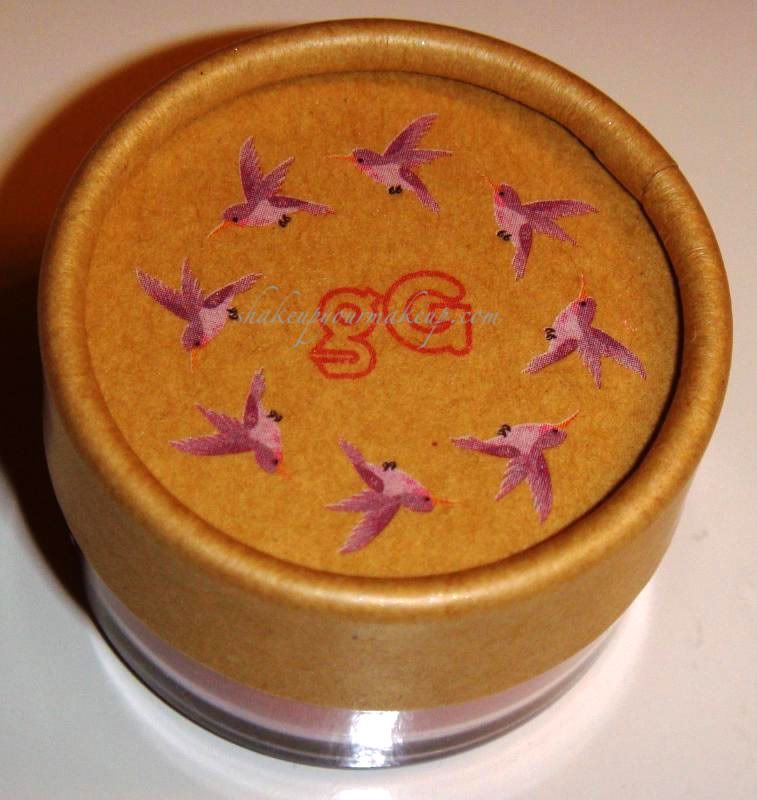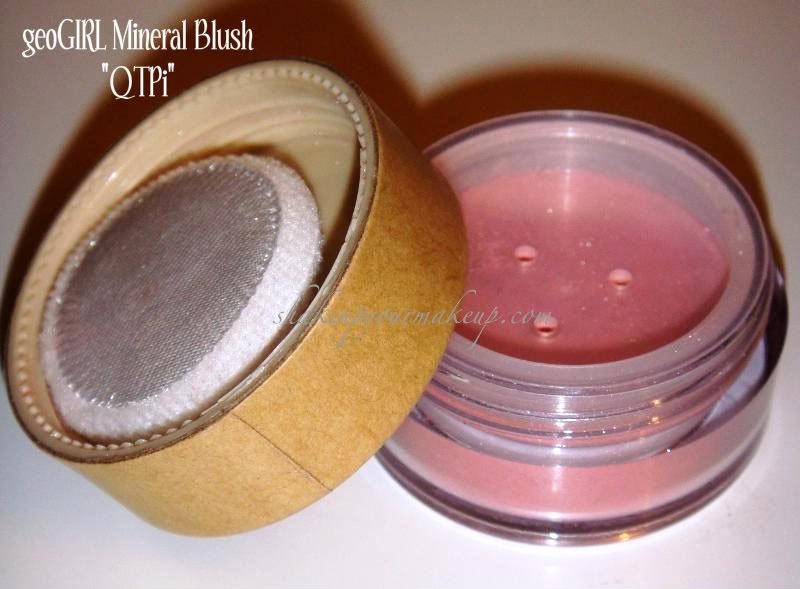 This color does look quite bright in the picture below, and in real life honestly. It actually goes on quite lightly, which I'll show you in the swatches below.
Next up is URA*, which is a pale shimmery peach. I would consider this to be more of a highlighter. This packaging has daisies around the lid, matching the color of the product inside.
.
Last up, the geoGIRL cream blush in "KOC". Similar to the URA*, this is a pale peach but without shimmer. I find that this could be used as a lip balm, too. It's moisturizing, but not greasy. There's just a hint of color. Although this is a cheek color, the stick isn't so overly chunky that you couldn't use it for other things.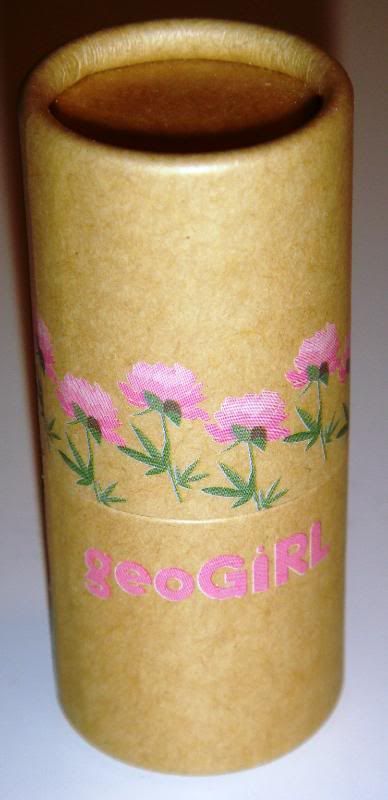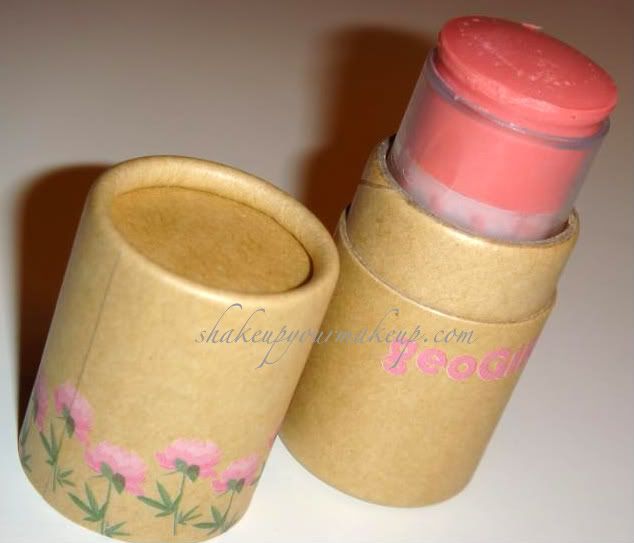 See, no shimmer...
Ok, onto the swatches. These are *not* overly pigmented, so the target audience of the "tweens" is right on (also note the texting slogans as the names). I now that QTPi looked like a clown's cheek color in the pot, but as you can see below, it's a nice shimmery coral. I used my finger tip to swatch these, so the streaks are quite dense with product. I've used them all for the primary purpose, blush, and they have worn wonderfully, no irritation, and the colors blend well into the skin.
My only complaint about the product is the packaging. I can appreciate the attempt at having an ecofriendly or mainly biodegradable package, but they are difficult to open. My sister had two separate products that she could not take the lid off at all, and ultimately returned. Although I didn't have that particular problem, I will say that the blue or adhesive used to package the product tends to create quite a seal and make removing the lids difficult.
All in all, these are quite nice. I am loving how natural the products are, both on and in composition. I wish that when I was growing up there had been more products like this for me to dabble with instead of the Disney character pallets from the Barbie aisle!
If I recall correctly, the retail ranged from $2.99 on up.
Have you seen these? What did you think?