Rimmel Glam Eyes "Night Jewel" and EOTD: Rimmel Night Jewel, Milani Lilly White and Milani Silver Charm
7:23 AM
Back at the beginning of the year, Rimmel put out some
new displays
for their Glam Eyes sets and singles. There were eyeshadow quads and single shadows, like Night Jewel (shown above). I'm typically pretty happy with Rimmel's products, although I have rarely used their eyeshadows, so I thought I'd give this smokey pewter color a whirl!
Night Jewel is a deep pewter with almost iridescent shimmer strewn throughout. This is a very frosty-frost, and the pigmentation is quite nice as well. There are two pictures below - one with a flash and one without. I think you can see the various iridescent shimmer in them below, especially if you click to enlarge the photo.
with flash
without flash
I swatched this shadow without any primer, using the sponge applicator in the package. Like I mentioned above, this is very pigmented. The color is creamy and smooth, as well, not chalky at all, making blending and application a breeze.
Seeing as this shade is a frosty pewter color, what better to do than a smokey look. Something quick and simple below, using the Rimmel "Night Jewel", Milani's Baked Eyeshadow in "Lilly White" and "Silver Charm".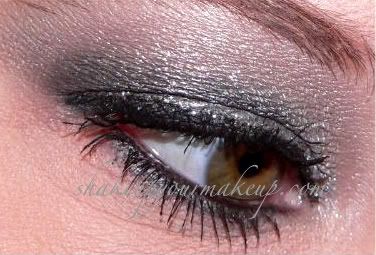 What I used:
Urban Decay Primer Potion
Milani "Silver Charm" - inner corners
Rimmel "Night Jewel" - outer corners, crease
Milani "Lilly White" - highlight
Physician's Formula Gel Eyeliner Trio - black
NYC Show Time Mascara - black
So, have you tried any of these Rimmel Glam Eyes shadows? Which is your favorite color?