N.Y.C. The Show Time Volumizing Mascara
10:27 AM
"If you take one thing with you on your big night out let it be this: new NYC New York Color Show Time Volumizing Mascara. It gives up to 8 times instant and extreme volume for your most dramatic eyes ever. There's no drama in the price though. So get ready, because tonight is showtime!"
I recently have discovered the great value that is
N.Y.C
., specifically with their nail polishes and lip gloss. The other day I saw a newer mascara called
Show Time Volumizing Mascara
, so I thought I'd give that a whirl. Retail runs between $2.99-$3.99, depending on where you shop, which is well below a majority of the hyped volumizing mascaras right now.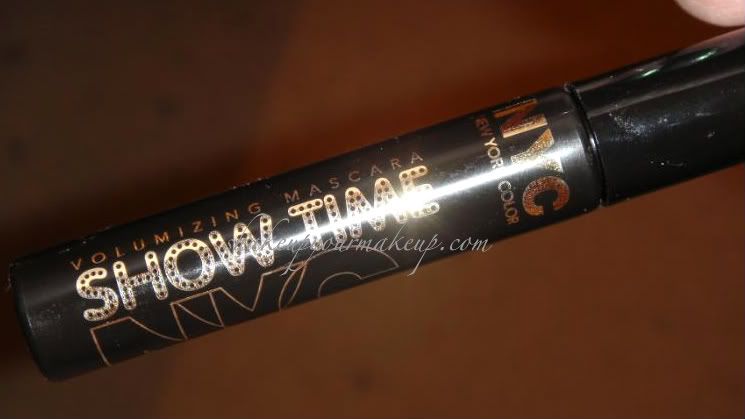 I tried to get a good snapshot of the wand because I think it is what sets this mascara apart from the other inexpensive drugstore brands out there. When I pulled the brush out, it instantly reminded me of the Tarte "Lights, Camera, Lashes" brush. A thicker brush, made with thick bristles, which are not the typical pipe-cleaner type bristles, nor are they rubber. The formula on the mascara is thick, not overly drying, and with the help of the wand, pulls through the lashes and lengthens while it volumizes. I did not experience any clumping, flaking, or smudging with this. I think the clumping thing is a huge "pro", as well. take a look at the closeup of my bottom lashes below - it's truely an elongation of my natural lashes, which is amazing. I will definitely be using this as my everyday mascara once I run out of my Tarte. The price to value is fantastic, and the quality really is there. My only complaint is I would like to see a blacker-black. This is a little smokey in color.
A "before" and "after" shot...
What are your favorite products from
N.Y.C
.?