Almay Intense i-Color Eyeliners Swatches & Review: Purple Ameythyst (Brown Eyes), Brown Topaz (Blue Eyes) and Raisin Quarts (Green Eyes)
10:39 AM
Having never tried Almay's products before, I decided to give their
Intense i-Color eyeliner
pencils a try. I was in need of a purple eyeliner, and having seen these on a display I grabbed the purple, brown and raisin shades.
Bring out your eye color with rich, contrasting color! Pearlescent eyeliner defines your eyes with rich tones that make your eye color pop. Built in sharpener ensures precise application, and color resists smudging and fading throughout the day.
Hypoallergenic. Ophthalmologist tested
These liners come with a built in sharpener, claim to be smooth, smudgable, but long lasting.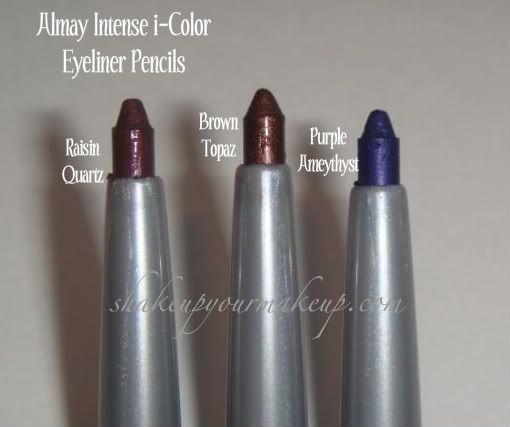 The pencils have a nice, fine point which makes application precise. The pigmentation is quite nice, and overall they glide on smoothly without tugging. I will say application requires a couple of passes for the desired intensity (for me), but overall application is quite smooth and seamless. There is a slight shimmer to these liners, nothing over the top, but just enough to brighten the eyes.
The Brown Topaz is a really pretty color, but really not that unique. I have plenty of bronze eyeliners - I will say this is probably the darkest bronze I have without becoming brown or brown/black, and also not being so light it would be considered copper or gold. That is a plus for me. Raisin Quarts is quite unique. I find that a lot of times the purple/raisin shades end up making me look tired - like I have red-rimmed eyes. This doesn't - it's just raisin enough in color to offset my hazel eyes, but deep enough that it doesn't blend into my skintone and make me look like I've got dark circles or bruises under my eyes. Of all three, the Raisin Quarts was the least pigmented, in my opinion. Purple Amethyst is a "blurple" - perfect for green eyes. I don't have any color quite this blue of a purple, so it is a nice addition to my collection. This is the most pigmented of the three in my opinion.
Overall these glide on quite smoothly, last well, and have good pigmentation. Would I buy them again? Probably not, only because I have fallen in love with some of the Urban Decay 24/7 liners, and I think they have a bit more "pop" than the Almay. But, I will say, if you are looking for some unique colors in the drug-store variety that are wearable, last well, and are easy to use, these Almay Intense i-colors might be just the thing! Also, keep an eye out because sometimes these are a freebie on an eyeshadow - packed together. That would be a great way to give them a try! Retail is about $5 for these liners.
I'll have some EOTD's with these liners soon...