Wet 'n Wild Color Icon Vanite Eye and Lip Quartet "I'm Baroque"
7:46 AM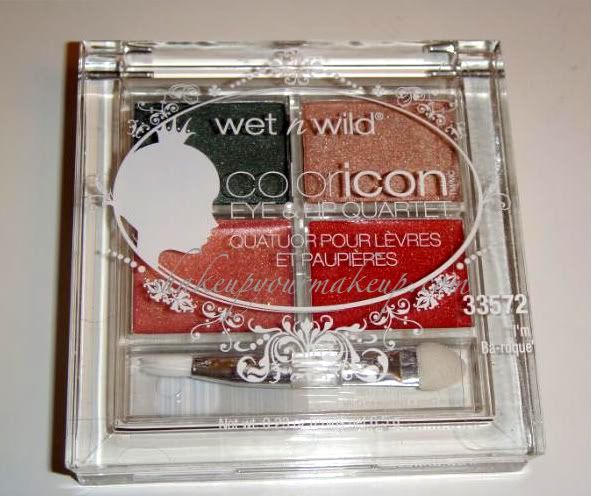 The hot spot for new products by me seems to be Meijer. Not only did I find the new Maybelline LE Eye Studio items I posted about earlier, but I also found the display with the new Wet 'n Wild Color Icon Vanite Eye and Lip Quartets. I chose to grab "I'm Baroque", which is a set with a peachy/pearl shade and a deep evergreen/turquoise shade for the eyes, and a pale coral and deep coral lipgloss.
Aren't those gorgeous? The eyeshadows are consistent with the new formulation from Wet 'n Wild: creamy and pigmented. The lipglosses are quite nice too. Unlike a lot of glosses that come in a pan like this, they are thick, nicely pigmented, and last all day. These particular colors are chock full of gorgeous golden shimmer, and will be absolutely gorgeous in the summer when I actually have a little color to the skin. Don't be scared of the deep red/coral shade to the right, either. When applied, it gives a nice, rich coral tint to the lips without being overwhelming. They are quite beautiful. Swatches below...
Have you seen these yet? Did you pick one up? I would definitely recommend this set - although greens/turquoise may not be your color, that particular shade would make a gorgeous liner too. A great value for the price!