Bonne Bell Eyeshadow Stick "Sage Shimmer"
9:13 AM
Another little gem from the Bonne Bell line - the
Eyeshadow Stick
in Sage Shimmer. This is a chunky pencil with a soft but extremely pigmented eyeshadow in stock form. These are very creamy, smooth, and easy to apply. As Bonne Bell's site says:
"Eye Shadow Stick™ is an eye shadow and an eye liner in one and is available in a beautiful range of illuminating shades."
The glitter in these is very minute, and really gives the color more of a mirror effect than actual glitter. Like I said, this is very smooth and creamy, so I'm anxious to try it out as not only a liner, but eyeshadow and even a base. I haven't worn it yet - just swatched for the pictures below.
The color itself is truly a silver-sage. There isn't a whole lot of warm undertones to this one, so for those of you who have enough olive pencils, this might be a good option. It is very bright, springy and cheery. I'm anxious to give this one a whirl! The retail is about $3.50, give or take your store.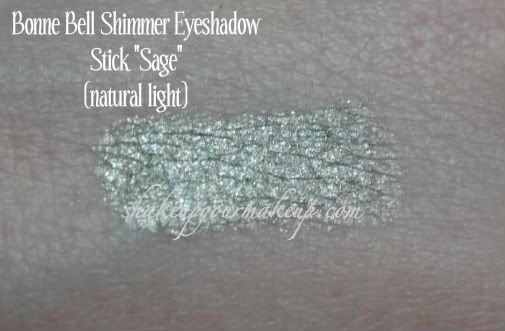 Have you seen or tried these pencils yet? What did you think?