Wet 'n Wild MegaLast Nail Color "Cupid"
8:37 AM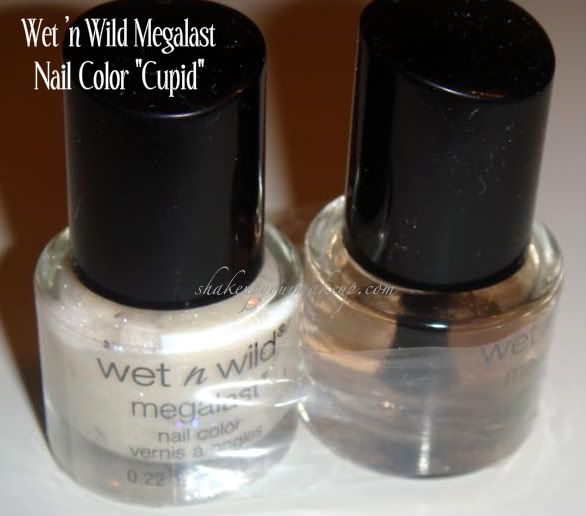 A few weeks back I found these little miniature Wet 'n Wild Megalast nail colors on an end cap at Walgreens. These little gems would make a great stocking stuffer - there is a color and a high shine top coat packed together for about $1.99 I think. I picked up the color called Cupid, which is a thick frosty white shimmer with iridescent glitter in various shapes and sizes strewn about.
The color reminds me of marshmallow fluff. Actually, so does the consistency. This polish couldn't decide if it was going to be thin or thick. It was an awkward consistency, so as a result the coverage was very uneven. I used three coats, and on some nails this was perfect and on other it was too sheer. Of course, it may have helped to use a white or off white base coat to give the opacity I was looking for. I do like the sparkles - it's not over the top, so this may make a nice frosty top coat to another color in your collection. When this dried, there was not a lot of shine, so I used the topcoat that came with it, as well as Seche Vite to give it some lustre. Overall, the quality is about a B-, but for the price, this is a cute little color for the holidays.
Have you tried these? What color did you pick up? I have one more to try out, so I'll post it this week - of course, I can't remember the name!