Bare Escentuals Beautiful in Pearls Vol 4 - Modern Pearls
10:00 AM
Finally! I have been meaning to post this last installment of the Bare Escentuals Beautiful in Pearls collection - Modern Pearls! This is actually a very good time to swatch these, because the colors would work beautifully with the deep golds and greens of the holidays.
As with the previous collections, this set comes with three brushes, two shadows, a blush, a 100% natural lipgloss, the Pearl Brightening mineral veil, a mineral eyeliner and the Flawless Definition mascara. Also, I finally got a good picture of the face map, which I attached below.
Cultured Pearl is the highlight in this set - exactly what I would imagine crushed pearls to look like, this is a shimmery cream with hints of iridescence. This is absolutely stunning. I know this is a color that has been available long before this collection, and now I wish I had owned it earlier! There is a swatch below (along with all the other colors in the collection).
Modern Pearl is a beautiful smokey jade green with
silvery shimmer. This color makes a beautiful liner, but is just as gorgeous as a shadow.
Pink Pearls Blush isn't exactly pearlescent, so the name doesn't quite fit, but it definitely is pink. I would call this a warm pink color, which seems very flattering for most skintones.
Praline is the newest shade in the 100% Natural Lipglosses (which happen to be one of my favorite). This is a warm pink/nude without any frost. This has quickly become my go-to gloss. The swatch picture below makes it out to be quite a bright color, which isn't quite right. I think that is a result of the flash. The last picture, with all the swatches, is much more realistic.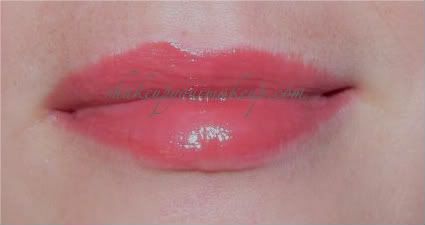 The eyeliner is called charcoal, and is a deep smokey gray. I really like this color - I can honestly say I don't have very many grey or charcoal liners, so this was perfect for my collection. Like the others, the pigmentation is fantastic, and the wear is great too, although these are not tauted as "waterproof", so there is the potential to smudge - I like to set my with a comparable shadow.
Here are the swatches - I can honestly say I think this is one set that works effortlessly together. Sometimes there is a shade that doesn't quite match up, but this one is beautiful across the board and makes for a beautifully put together look.
Also, just a quick peek at the brushes - I love BE's brushes, so any collection that comees with them is a huge bonus for me. The angled blush is my hands down favorite - this is perfect for applying lose mineral blushes because it has long soft bristles, that hold just enough pigmentation with out over doing it on the cheeks.
I am sorry it took so long for me to get these pictures up! I've been sitting on this collection for a few months, so I'm definitely slacking!