Spotted at Walgreens: Sinful mini's for $0.99, Revlon Scented Nailpolish and Heavenly Metal, Sally Hansen Insta Dry French Manicures, & Sally Hansen Nailgrowth Miracle
11:42 AM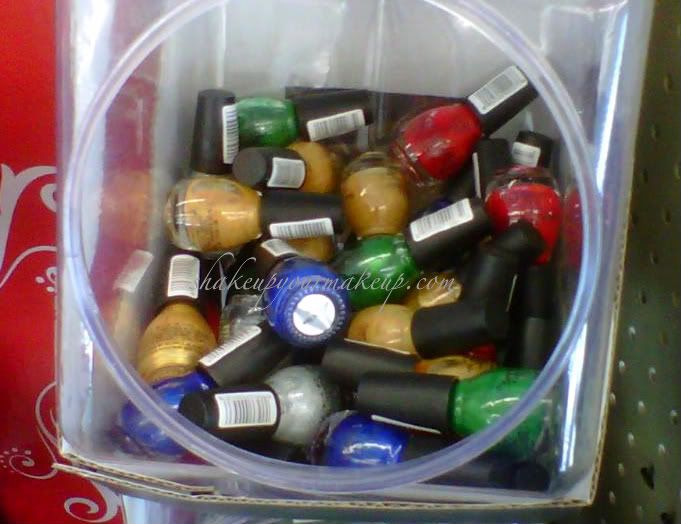 New drugstore collections are one of my favorite things, and just in time for the holidays! I went into Walgreens yesterday to grab some hairspray...something simple, and unexpectedly came across several new displays.
First, above is from an endcap with little stocking stuffers. These are mini Sinful nail polishes that are $0.99 - the colors are really pretty - a frosty and sparkly gold, an warm red, blue and bright green.
Secondly, at the very bottom of the cosmetics counter was this new display of Revlon's Scented nailpolish. Of course, they don't smell immediately, but it is after the polish has dried - the scents were ranged from Beaches to Berries, and everything in between. I picked up a bluish-purple (in the greens and blues above), that I think is called Ocean Breeze. I'm very excited to try these out! The colors are really pretty, too, and are a far cry from the muds and greiges we have seen recently.
Next up are these new french manicure sets by Sally Hansen Insta Dry. The whole thing is quite unique from start to finish. Not only are the colors quite unique (purple and green, silver and black, blue and yellow, red and orange, and of course, your typical french white and neutral), but the depending on how you twist the lid determines the color wand you pick up. These also have a very thin brush, so you can try different kinds of designs, not just your standard french manicure.
Next up, are the new Sally Hansen Nailgrowth colors - most of these are quite "neutral" in my opinion, no bright blues, greens, or yellows. The most vivid color in the set would be either the bright pink up front or the frosty green on the left. I was very tempted on getting the green, so I think I'll wait for a sale and do that!
Last but not least, the Revlon Heavenly Metal collection. I didn't even know where to start with this one - it was tons of frosty goodness! There are three sets of shadow-duos, which are baked colors. There is a silver and charcoal, a gold and silver and a frosty white and navy blue. The three polishes are silver, gold and copper - I picked up the copper one. There are three eye crayons and some of their color stay lip colors. Beautiful stuff, and definitely my favorite of the whole trip! I'll post pictures with the scented polish I bought as well.
Have you spotted any of these? If so, what did you get?