Spotted at Walgreens: New Revlon, New Sally Hansen, New Rimmel!
2:08 PM
Happy New Year! The displays keep coming! Here is what I saw in Walgreens yesterday!
New from Revlon: The CustomEyes mascara. Now this is a new concept, at least for me. As opposed to having the brush wand pull through a different cap for volumizing vs. lengthening, the actual wand itself changes. With the click of the cap, bristles can come out to give more definition, or be withdrawn back into the wand to allow for volumizing.
(Click on the images to enlarge)
As we all know, I'm all for a good mascara, especially a good gimmick, so I of course purchased a tube. I'll do a review in a few days after I've been able to give it a try. I'm definitely curious about the whole thing...we'll see!
Not only was there an entire display devoted to this new mascara, one of Revlon's multi-brand racks also had it the CustomEyes mascara, along with an animation at the top to show you how it works. What else was on this display? Well, the new Top Speeds, new lipgloss, and some new CustomEyes eyeshadow palettes. I took a closeup of one of the palettes, Metallics I believe was the name, and you can see it below. The colors look pretty!
Also new from Revlon, the new Crazy Shine nail buffer. I've seen these before, from different companies, and really it all depends on the brand as to if they are effective or not. This one looked promising, and even had a tester you could try out on the display.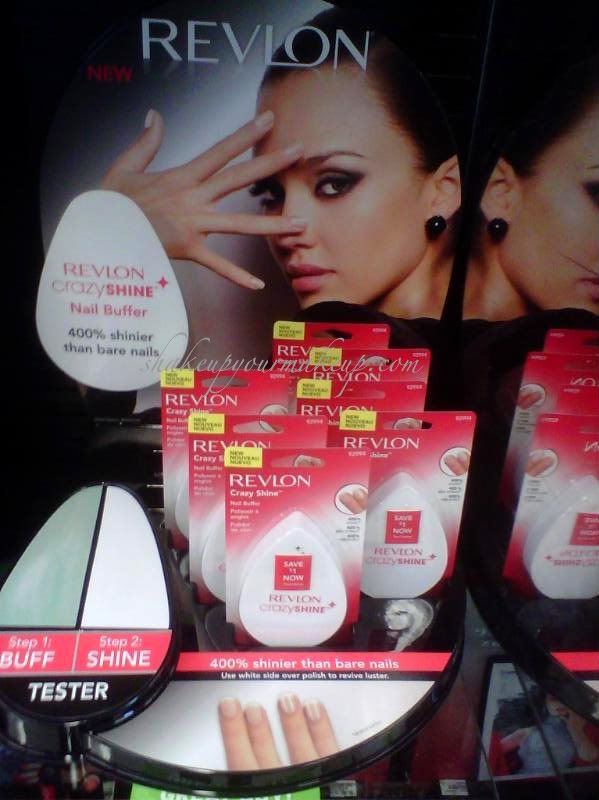 New from Rimmel: Glam'eyes eyeshadow quads and trios. Actually, when I was at Meijer, I stumbled across this display and it had some singles in it as well, one of which I purchased.
Finally, new from Sally Hansen: Vitamin enriched lip care. These look like lipsticks, but without the color. There is a Vita A, Vita B, Vita C and Vita D. Interesting!
Have you spotted these displays yet? What have you purchased?