Laura Geller's The Real Deal Aresenal - Merry Christmas to me!
10:57 AM
You'll have to forgive me...I was so anxious to try this present from my mom, that I didn't take the pretty "pre-used" pictures to post on my blog!


The Real Deal Arsenal was a TSV on QVC a few months back, and I had total buyer's remorse for NOT buying it! I was so excited to get this to try out! The kit comes complete with all new products in the Real Deal line, including a Spackle in stick form - the Real Deal Remedy Stick, The Real Deal foundation SPF15 in stick form, a blush in stick form, the Real Deal Blush Stick SPF15 in "Spiced Mauve", the Real Deal concealer, an Eye Rimz Baked Wet/Dry Eye Accents in "Plum Like it Hot", and a new Light Beams Lip Gloss in "Passion Fruit". This also comes with the cutest sponge "lips" applicator to apply the foundation and concealer.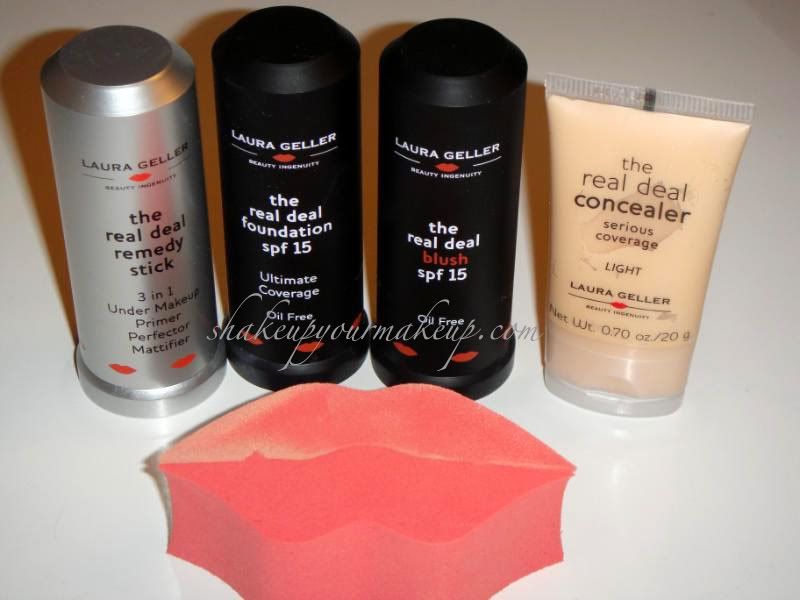 I'm not going to lie, I was scared to try a non powder/mineral foundation. I think it's been 15 years since I have worn one, since I either use Bare Escentuals or Laura Geller's Balance 'n Brighten. In the past, these have made me feel very over done because the colors either don't match, they oxidize and become orange, or they just look caked on.
See how all of these are in stick form? I think Max Factor used to have a heavy-duty coverage foundation in a stick form I loved, but of course, it's long gone! The Spackle is awesome, and blows every other face-perfecting primer I've tried out of the water. Honestly, I don't need anything to help with oily skin - for me, it's just evening out and hiding the flaws: i.e. fine lines, pores, and just creating a smooth canvas to work on. This does the trick, and is definitely my holy grail. The foundation is amazing, and blends extremely well into the skin. I actually set it with my Balance 'n Brighten, and have not had any of the oxidation that I have had in the past, causing the color to change. Instead, the foundation matches flawlessly, and I don't have any lines or cakiness that can sometimes happen with liquid or stick foundations. The Real Deal Blush in Spiced Mauve is a beautiful rosy color with golden shimmer. I will say, that if you don't like shimmer, the look of the product in the tube can be a turn off...but once applied, it smooths into the skin and gives a glow. I, of course, love shimmer, so if I feel like I need a little, I have swiped some Ethereal Rose over the top to give it a little *umph*. The stick does give that "color from within" or "just pinched" cheeks that we all strive for in a blush, without being over the top or too pigmented.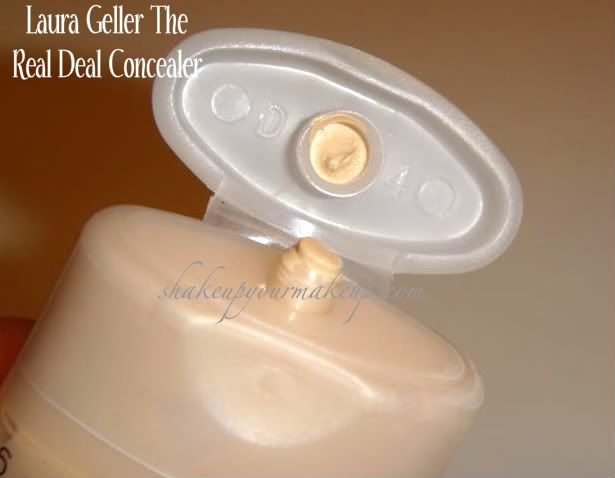 I used to have an art teacher that always said, "A dot does a lot!" with regards to glue. Well, the same can be said for Laura Geller's Real Deal Concealer. I use the smallest amount possible when it comes out of the tube to conceal under each eye, and it works magic. It covers, doesn't fall into lines, and lasts all day. I will say, you could definitely come into trouble if you used too much, so if this is something you have used/tried with little success...try to use less product and see if it helps. A little truly goes a long way!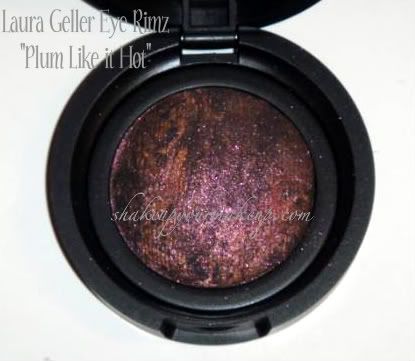 The Eye Rimz in Plum Like it Hot is a beautiful swirl of mocha, pinks and plums. These can be used wet or dry, on the water line, as a shadow/liner...you name it! This is a beautiful warm color that I am falling more in love with each time I use it.
Above are the swatches. Of course, I didn't blend in the foundation, concealer or blush. I will say, they look quite yellow for my skin on the swatches, but they actually work quite well once applied and blended in. Like I said, the blush looks a bit overwhelming, but again blends so well into the skin that it looks completely natural. The Eye Rimz are best used over a primer (I used LA Splash eyeshadow primer/sealer) or wet. When they are dry, you just don't get the full effect, and they look kind of chalky. The lipgloss is gorgeous - a perfect every day color. To steal a phrase from my girl at Nouveau Cheap...this color is my lips but better!
Up next...a FOTD using this kit...