Maybelline Dream Mousse Concealer "Fair"
8:54 AM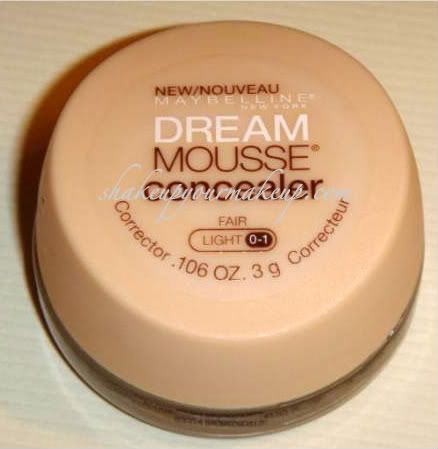 I am always on the lookout for a good concealer. As you'll see below, I need it! I have been given, through the power of genetics, extremely fair, and therefore dark circles under my eyes. As a result, a good concealer can be the difference between a comment like, "Wow, are you feeling well today?", or "You look nice - I like your makeup this morning...". Believe me, I've heard both!
I've been going back and forth for months on purchasing the Maybelline Dream Mousse Concealer. I've read so many reviews raving about it, but ultimately it took me having a Maybelline coupon and a CVS coupon to take the plunge. I'm not really sure what my hesitation was...probably all the products I have in my foundation drawer that don't work...but I finally did, and boy am I glad I did!
As the name suggests, this concealer is a mousse, and therefore very light and fluffy. I wouldn't have thought something so light and airy would cover, but this one definitely does. Below you can see the consistency, as well as it blended into the skin. This doesn't fall into fine lines, you do not need a lot of product to cover, and it has a hint of yellow pigmentation to help correct the dark circles that I feel like we all ultimately are plagued with at one point or another.
To try and demonstrate the great coverage this product has, below is a picture (be forewarned...it's scary!) of the left side with concealer and the right side without. You can see that the Maybelline Dream Mousse covers the dark circles, corrects the discoloration and redness, and doesn't fall into the lines under my eyes. Once applied, I set this with my foundation and it lasted all day long without smearing, moving, running or settling into the lines.
So, bottom line, would I buy this again? Absolutely. I have yet to find a concealer that I could say actually worked, can be used under my mineral foundations without looking caked on, and lasted all day long.
Have you tried this one? What is your HG concealer?