EOTD: Femme Couture Lightning Lash Mascara
10:13 AM
(Click the images for a larger view)
Yesterday I posted about the new brand I found at Sally Beauty, the Femme Couture line. Although there were tons of beautiful products available, I instantly went towards the mascaras, and instantly fell in love with the Lightning Lash mascara, which is a glitter mascara.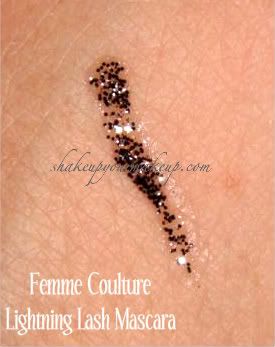 Below you can see some close-ups of this gorgeous mascara on. It's not as noticeable when you are looking directly on, but when I turned to the side, I could see the beautiful sparkles light up in the sunshine. Note that these pieces of glitter are not huge chunks, they are like a micro glitter that adheres to the lashes. Even better, it didn't flake off at all - it stayed on all day until I washed my makeup off at the end of the evening.
On my eyes:
Fyrinnae Pixie Epoxy
Sassy Minerals "Dirty Martini" - inner corner
Sassy Minerals "After Party" - outer corner/crease
MAC Pigment "Vanilla" - highlight
Urban Decay Liquid Liner "Shattered"
Femme Couture Monster Lash Mascara
Femme Couture Lightning Lash Glitter Mascara
See how gorgeous the sparkles are?! I think this would be lovely on a night out, but to be honest, if I need a pick-me-up, I'll be wearing this on any day!
Have you tried Femme Couture before? If you haven't and want to try them out, take a look below. If you are a Sally Beauty Club Member, you can receive a free Femme Couture Baked Mineral eyeshadow with any $10 purchase - that's an $8.99 value! I did see these baked shadows in person and they are absolutely stunning, so this would be a great bargain! I'd love to know if you try them out and what your thoughts are...