Femme Couture Lightning Lash and Monster Lash Mascaras
9:08 AM
I recently went into my local
Sally Beauty
store, I noticed a new display of a brand called Femme Couture and instantly went to the two mascaras below:
Lightning Lash
(a sparkle mascara) and
Monster Lash
(a volumizing mascara). I'm a sucker for mascaras, so this was an easy buy for me, especially the glitter mascara!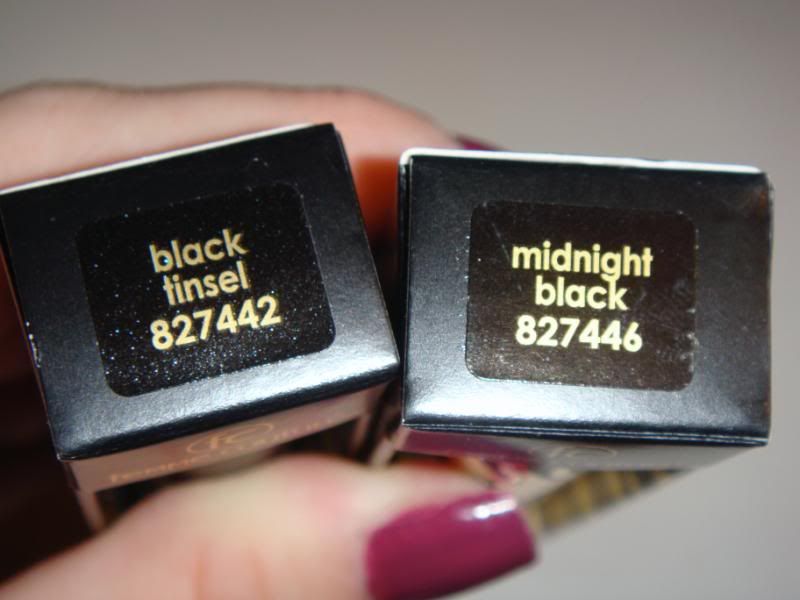 The Femme Couture Monster Lash has an extra large tube and brush. The brush itself is a spiral bristle, which was something I haven't seen for a while - it seems like any more, every new mascara comes out with an equally new brush design. To be honest, I can't think of the last time I've used a mascara with a basic spiral bristle...it's been a while! The color is a rich, deep, black and the consistency is quite smooth, and even a little bit wet.
Below is the Lightning Lash glitter mascara. As you can see, this is a plastic comb brush, which captures all of the little glitter. I will say, that this comb works a lot better than a typical bristle brush for glitter mascara. I've tried various different types of glitter mascaras (Hard Candy, Bare Escentuals, Fantasy Makers...), and this mascara was the easiest to apply and you can actually see the glitter! I'll be posting about it specifically tomorrow.

See all the sparkles? This mascara has both black and silver sparkles, which hopefully you can see below.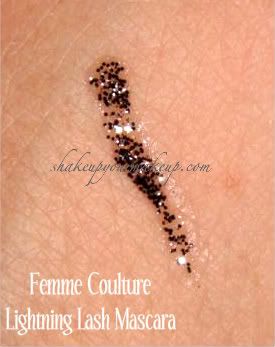 Let's get back to the Monster Lash. The website states that says that "Femme Couture Monster Lash creates monstrous lashes with a single application". I was very anxious to give this a try, so below are a few pictures for you to see.
As I mentioned above, the formula seemed a bit *wet* to allow for a lot of volume, so I have to keep that in mind when using. The brush is extra large and thick, so it does allow the bristles to wrap around each lash easily.
Unfortunately, because of the consistency, I don't think this product created monster lashes on me. It may be that my lashes didn't curl with this mascara as they tend to do with other mascaras, so you can't really see any difference in the pictures above (one coat vs. two coats). More than volumizing, this mascara really did lengthen and define my lashes, so if you are looking for a mascara that does some great definition and focusing on making your lashes look natural, but better, this might be a great option for you. I'm glad I tried this mascara, but I wouldn't buy it again. I am sold on my Falsies mascara still, so until something comes across that does a better job, I think I'll stick with it.
As I did say, though, I am really liking the glitter Lightning Lash mascara, so I'll be posting about that one tomorrow - beautiful sparkles for those of you whole love them!