Bare Escentuals Beautiful in Pearls #2 - Exotic Pearls
9:37 AM
I am so excited to FINALLY get to post these pictures! I have been struggling with my Photobucket account (but only at work...maybe it's trying to tell me something!) so I got them all uploaded last night at home. A while back I posted about the
Bare Escentuals Beautiful in Pearls
collection from QVC, and I was pleasantly surprised with my second shipment a few days ago! To be honest, I forgot that I was set up on autodelivery, but am obviously thrilled to have something new to post about.
The packaging of this box is absolutey beautiful. I'm a sucker for pink and green, so when I opened the box to see the beautiful lime green lining and all the pretty pinks and irridescence on the outside, I was completely drawn in. The shadows in this collection are right up my alley too - frosts and purple!
There are quite a few pictures below, so proceed with caution - remember these shadows are infused with real Honora Pearls :)
The mineral veil that came with this set is the same as the last one - a Brightening Pearl Mineral Veil. This mineral veil isn't quite "white" or "transluscent" as the original -
you can see it here
. Instead, this has a hint of color that is meant to correct your skintone, as well as "brighten" it. There is a hint of shimmer to this mineral veil, but nothing like the feather light - it is so miniscule you hardly notice it unless you are really looking.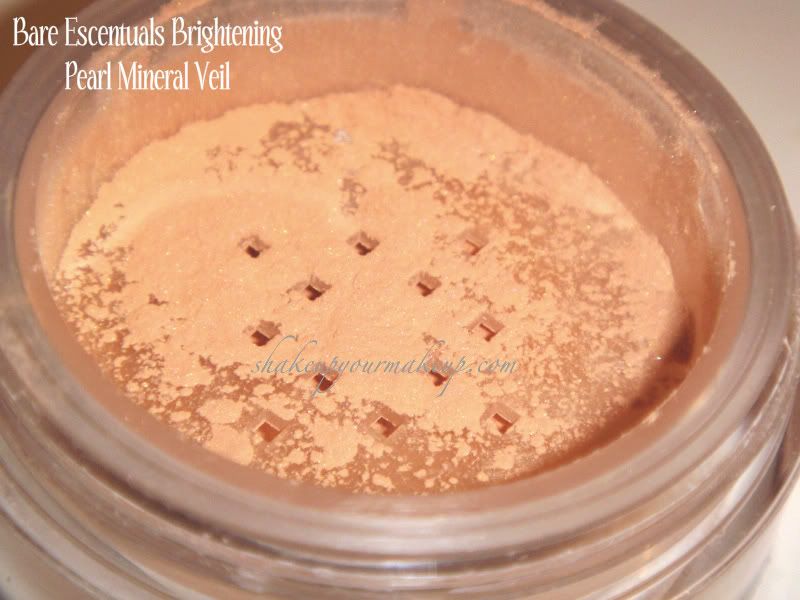 Pearl Blossom Blush is a bright berry with coral. In the pot, it definitely looked very berry, but when I applied it, there were some golden shades that came through and "warmed up" the shade. I would definitely suggest using a light hand with this blush, as a little goes a long way! It's absolutely gorgeous, and can't wait to have a little bit of a tan - I think it will be even prettier then.
There were two beautiful eyeshadows in this collection: Exotic Pearl and Black Pearl. Exotic Pearl is the first picture below - a white frost infused with a hint of sage green. I can barely tell there is any green to this color when applied, but in the pot you can really tell. Unfortunately that part of the shadow didn't exactly show through in the picture below - I think the flash washed it out. This color is perfect as an all over lid color, highlight, or even to add a sweep of highlight to the cheeks. Black Pearl is a deep egg-plant purple with beautiful purple and even hints of blue frost. Although I have used this as a crease eyeshadow, I did play around with it wet and it would be a gorgeous eyeliner.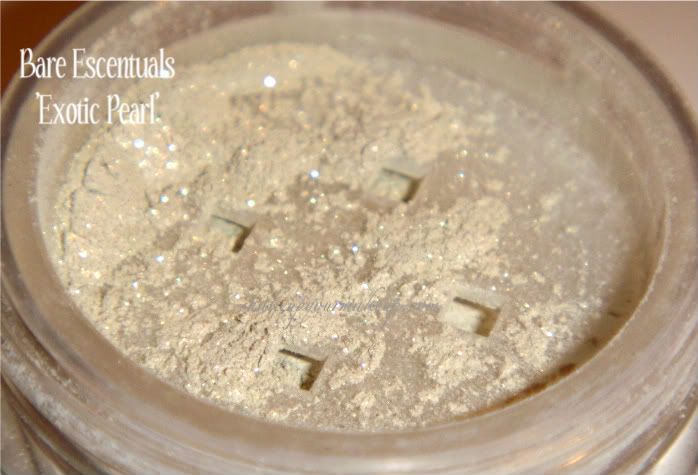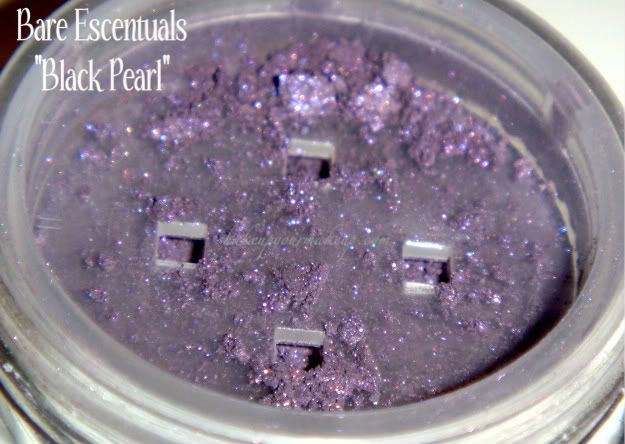 Last but not least are the mascara, lipgloss and eyelining pencil.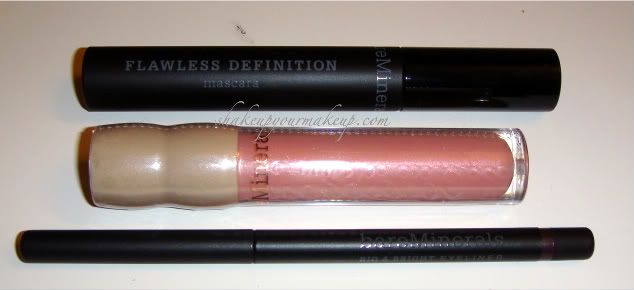 This time around, the pencil comes in a deep, gorgeous, matte plum. This shade pairs very well with the Black Pearl eyeshadow, and is deep enough if you want a black-ish eyeliner, without acutally using black.
As you well know, I am in love with the new formulation, or Natural Lipgloss, that Bare Escentuals has come out with. Don't get me wrong, I loved the Buxom glosses, but these are so smooth and long-lasting that they are hard to dislike. The color in this kit is called Layer Cake, and it is a pale warm pink with shimmer. When applied, it truely is so neutral it blends right into the lips and just adds shine and a hint of shimmer without being chunky or gloppy. I think the second picture below gives you a good idea as to the lipgloss, as sometimes the flash distorts the color in the tube.

Finally the swatches! I hope you like them - I will do a FOTD with this collection soon - they really are gorgeous!