Prestige "My Blackest Lashes" Mascara
11:07 AM

I have a bag of new products I need to review and swatch, which I am finally getting around to doing. The first thing on my list was the new Prestige My Blackest Lashes Intense Black Volume Mascara, which also came with Prestige Ultimate Eye Definer pencil. As you all know, I am always interested in trying out a new mascara, so I was very excited to crack the cap on this one and test it!
The Ultimate Eye Definer eyelining pencil reminded me a lot of MAC's Eye Kohl's. The color I received with the mascara was brown/black. The texture was very cream, without any shimmer, extremely pigmented, and wore all day without smudging or smearing down by my eyes. I actually found that the liner reminded me a lot of my MAC Eye Kohl in "Teddy". Although Teddy has a hint more gold, as well as a hint of shimmer in it, the colors were very close in wear, pigmentation and consistency. Definitely a great drug-store buy if you can find Prestige Cosmetics near you. My comparison picture of the MAC and Prestige are below.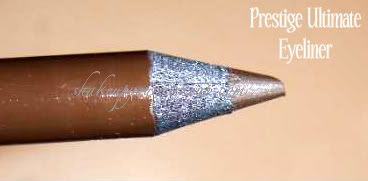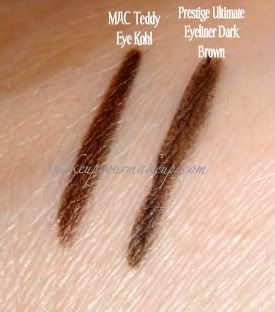 Back to the mascara. When I pulled the wand out of the tube, the first think I noticed was how BLACK this mascara was. Obviously, I should have assumed it would be by the name...My Blackest Lashes...but let's be honest, there are tons of mascaras on the market with the name "Extreme Black", or "Blackest Black", and they still dry less than black. The wand is also very bristley. This, along with the smooth and buildable consistency of the mascara itself, made it very easy to apply without clumps or flakes. I have to say, that after one sweep, my lashes looked like they had been dipped in black dye.
Before: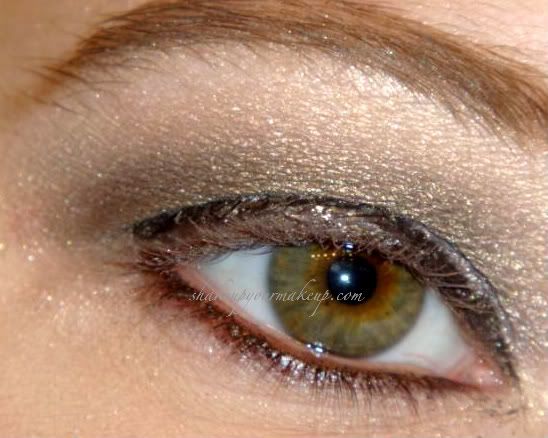 1 coat: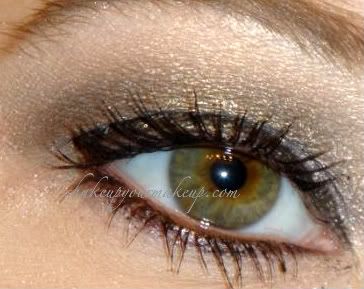 2 coats:
I am absolutely in love with this mascara. I think it might be my new HG. Not only does the product go on extremely smooth, there were no clumps to speak of (even after trying to apply 3 or 4 coats), and it didn't flake throughout the day. Even by the end of the day...no smudges, smearing, etc...and it came off with easy with my face wash and water. I'm not sure if you have an Ulta by you or not, but I really enjoyed this product and think that it is worth the try!
Also, if you aren't looking for volume, but instead length, check out Recessionista's review of
Prestige Cosmetic's My Longest Lashes over at Nouveau Cheap
...looks like a winner as well!