Christmas Haul Part 2: Limited Edition Milani Crystal Eyez Sparkling Eye Shadow
11:29 AM
Milani Crystal Eyez Sparkling Eyeshadow are part 2 of my Christmas stash. I received three colors: Gorgeous and Glowing (green), Beautifully Brilliant (plum) and Glamorously Glittering (golden). I had seen this while hunting for some little gifts in the drug store makeup aisle earlier this month, not to mention I read about them on
Nouveau Cheap
. I was very excited to try these out!
First, I applied a thin strip of each color to the back of my hand to see what the consistency was. They are all pretty thick gel-based, although the green doesn't have much pigmentation compared to the plum and gold shades. I will have to say that this surprised me a bit. Considering what the three products looked like in the tube, I assumed the green would have a green base, as the plum and gold each have a thickly pigmented gel with their respective shades.

I used my finger tip to apply a pretty liberal coat of each to the back of my hand as well. Again, the green was a bit more sparse than the plum and gold. I actually really like the look of the plum and gold as eyeshadows, especially if they don't flake off! At the very least, these would make a really pretty neutral eyeliner shade, or be just as gorgeous on top of black eyeliner. It's hard to photograph the sparkles, but these are jam-packed, that's for sure. The plum and gold base is very frosted, so as you can see it covers very well. the glitter in each consists of some irridescent, but mostly glitter that is the color of the eyeshadow: green, plum, or gold.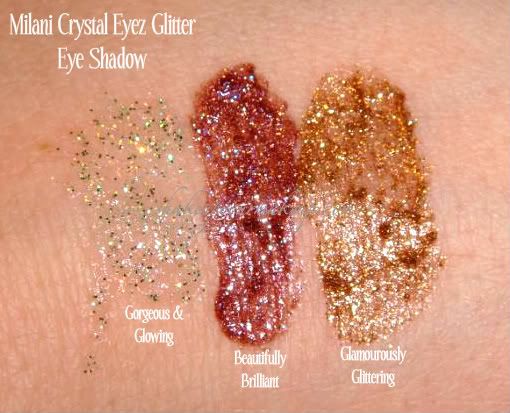 I am anxious to try these out as an eyeshadow, or as the display says,
on top
of an eyeshadow to add some glimmer and glitz. If they do as they say, these should make an amazing addition to anyone's New Year's Eve outfit. I will be testing these out in the next day or two, so I will definitely do a look with them and let you know how they fare.
Has any one else tried these out? What color? What did you think?