My Christmas Haul! (Part 1): Cargo Hands of Hope Palette and Kat Von D Rock n Roll Palette **Pic Heavy**
11:05 AM
I hope you all had a great holiday weekend! It's hard to believe that 2010 is just around the corner! I know one thing, this year has blown by so quickly, but it was a fantastic year, so no complaints here!
I was very lucky this year when it comes to the gifts I received. My mom bought me the
Cargo Hands of Hope Palette
, as well as I received the Kat Von D Palette below. Both are full of beautiful colors, so I did my best to take tons of pictures so the colors come through. I have never tried either brand before, although I've read rave reviews for both. Needless to say, I am so excited to try these out!
The Kat Von D Rock 'n Roll palette has two light shimmery shades, as well as two darker, but still shimmery shades.

"Believer" - Bright white with silver shimmer/sparkles

"Confessional" - Frosty champagne with golden shimmer

"Groupie" - Deep eggplant purple with blue-ish shimmer/pearl

"Motorhead" - dark charcoal/black with hint of sparkle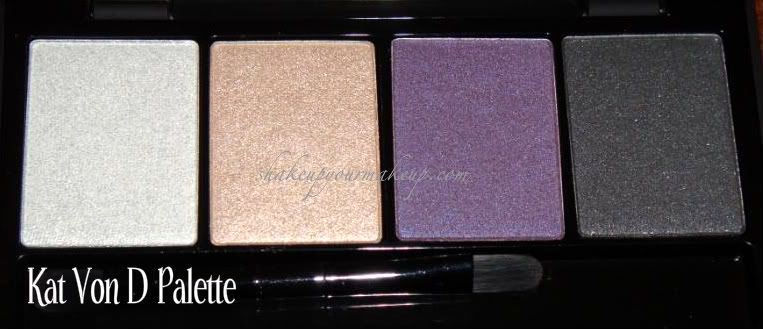 I used my finger to apply these. The first shade, Believer, is a bit chunky, so I think using Fyrinnae's Pixie Epoxy underneath would really help pull the color, and sparkles out. Confessional is a beautiful champagne shade, which I can already tell will be used often by me. Groupie is a very different purple than I usually use. I'm anxious to try this out in a look. The eyeshadow itself is a little "chalkier" than the other shades, but think it does have potential. I love the Motorhead - I have been needing a good, dark, charcoal to use in smokey looks, but haven't found one yet. Hopefully this will be it!

The Cargo Hands of Hope Palette is filled with huge, shimmery, colorful eyeshadows. From my initial swatches, these feel very similar to the texture of Stila Kitten, so that to me is a HUGE plus! I love the versatility of the shades. There are neutrals as well as brights, all are shimmery, and some even have hints of glitter. Although these are not named, I have attached close ups of all of the eyeshadows below, including the swatches.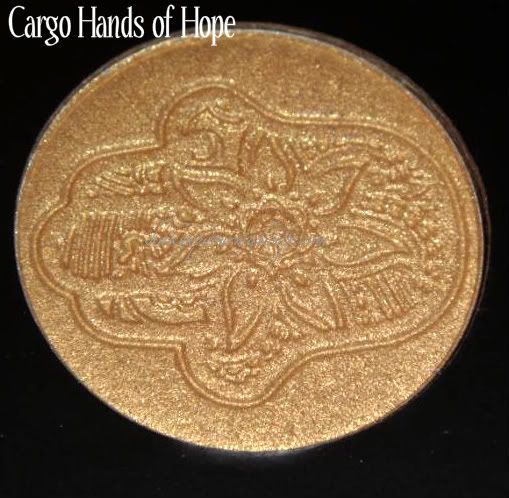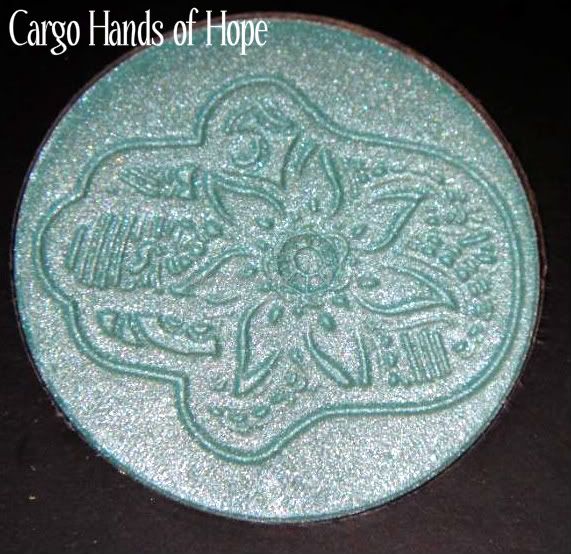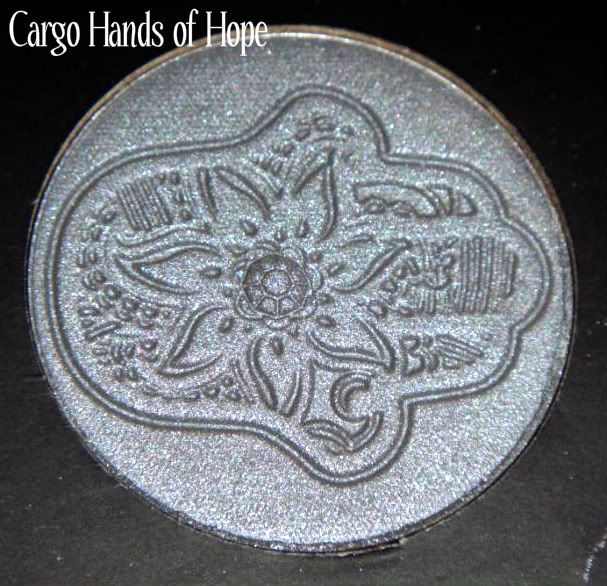 As I said earlier, I have never tried Cargo's eyeshadows. When I have read about the brand, everything has been positive, especially when speaking about their colors and pigmentation. Each of these shadows were are smooth, creamy, and very well-pigmented. I love how shimmery these are. The golden shades look like crushed metal, but go on effortlessly when applied. I think my favorite color is the teal - I do not have much in the blue category of shades, but this color is absolutely beautiful and reminds me of a crystal clear ocean.

I will be posting pictures of makeup-looks using these eyeshadows, as well as some more goodies in my upcoming posts!

How were your Christmas/Holiday festivities? Did you get anything new and exciting? I'd love to hear about it!