Fyrinnae Haul + Pixie Epoxy!
8:00 AM
I recently received my newest shipment from Fyrinnae, which included the Pixie Epoxy I've anxiously been awaiting! I ordered a lot of dark shades, particularly those I can use as eyeliners. Being that fall/winter is around the corner, I've started sidelining a lot of my paler pastels and have been indulging in the darker browns and golds recently.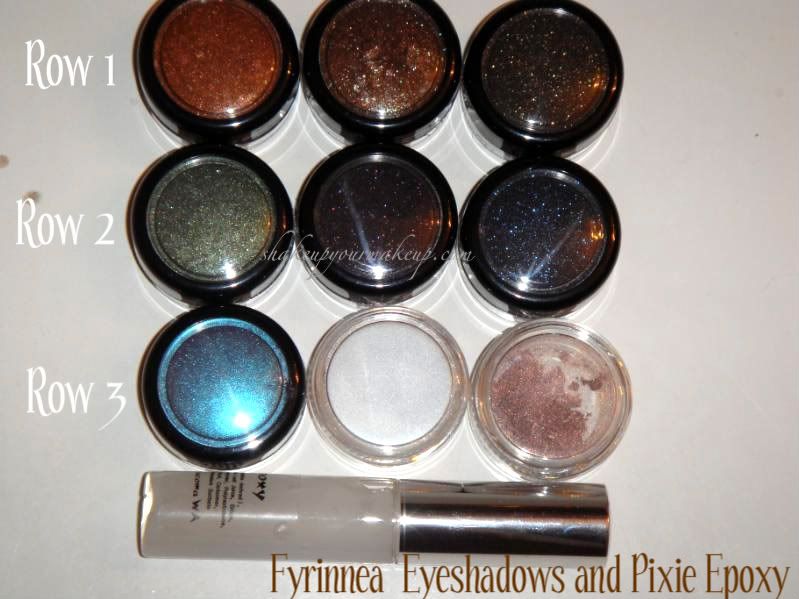 The first row has Lousy Tip, Sake & Sashimi and Bastet.

Lousy Tip is a beautiful deep penny-colored copper. This is very shimmery, but doesn't have chunks of glitter.

Sake & Sashimi is a deep mauve/copper blend with hints of olive. This is a shimmery shade as well, but it also has tiny pieces of iridescent glitter. I can't get a very exact picture of the color - this is one you definitely have to see in real life to experience all the colors!

Bastet is a matte black with deep golden shimmer/glitter. Although this will make a beautiful liner, using the Pixie Epoxy (below) you can see how gorgeous the color can be as an eyeshadow as well.



Boy Toy is a gorgeous, deep evergreen shade with gold, copper and turquoise shimmer.

Fyre & Ice is a deep purple (almost black) matte with purple, blue and a little gold shimmer. This is such a gorgeous eyeliner and blends well with tons of different colors because of the different shades of shimmer/glitter in the color. Again, this is another one of those colors that is difficult to photograph because of the complexity of it.

Biker Chic is a deep black with royal blue glitter. Another color that makes a beautiful eyeliner!



Wicked is a egg plant purple shimmer with blue and purple glitter. This color is very iridescent - one angle it looks purple, another it looks turquoise. It's so pretty, and a great way to get some color in your regiment for the winter months!

Sahmain Spirits was a sample that I received and I love it! It's a muted terra cotta color with lavender shimmer.

Faerie Realm is a very pale, almost iced pink/lavender with iridescent shimmer. I am so glad I received this as a sample - I've been using it so much, I know I am going to have to order a full-size!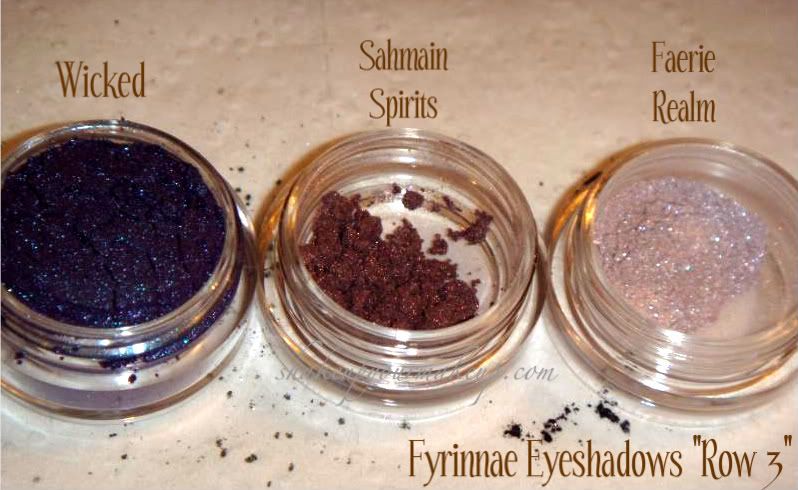 I also ordered the Pixie Epoxy. This is a product you apply on your lid, allow to dry and become "tacky", and brush on your shimmery and glittery eyeshadows so there isn't any fall out, and the colors last all day! (Check out the website - there is a great description of the product and the ingredients there). I have to admit, I was a bit apprehensive, but at $5, I figured, why not?! The product is clear, dries quick enough that you don't delay your application, but isn't so instantaneous that you rush to get your eyeshadow on, either. I am so AMAZED at how it works!! Not only does it look better than when you apply your eyeshadow wet (no creping!), but you have intense, shimmery eyeshadow that lasts all day! Do note, this is not intended as a replacement for a base/primer, but mine didn't budge all day long.

Finally, I have swatched all the colors below. I used the Pixie Epoxy on top, all the way across the arm, and brushed the eyeshadows from top to bottom, so you could see the color with/without Pixie Epoxy. It really is amazing! Talk about no more buyer's remorse! The colors look as good on as they do in the jar now! There are so many more shades I am going to be buying because of this product.

Also, do remember - this works wonderfully on all of your eyeshadows, not just Fyrinnae! If you have some shimmery eyeshadows or pigments that fall out during application and don't last during the day, I would definitely give this a try. I used it with my Bare Escentuals and couldn't have been happier with the colors.