Bare Escentuals "Siren of the Sea" Collection
8:00 AM
I recently went into Sephora to buy my friend a gift card for her birthday and stumbled over to the Bare Escentuals counter to see if there was anything new that I *needed*.  Go figure, I found something!  The Bare Escentuals Siren of the Sea collection has a set of beautiful summery colors, including a new version of the mineral veil.  I had read about the new Hydrating Mineral Veil, which is supposed to be little capsules of water that burst when applied, giving a refreshing and cooling sensation.  When I read about this, I thought it would be perfect to use in the summer, especially on some of those hot days when a little extra cooling helps!  When I saw the actual sample in the store, I was pleasantly surprised at the bit of shimmer/glow that the hydrating mineral veil had as well, and thought it might help brighten my complexion on some of those "blah" days we all have...so, I bought the kit!
The kit comes in a gorgeous box that encompasses everything about the colors inside.  Not only is there a cute little straw clutch, but you also receive a double ended brush (I forgot to add it to the picture), the Hydrating Mineral Veil, a beautiful turquoise eyeshadow in Mermaid, a shimmering pale taupe in High Shine Sand Dune, a soft and natural coral blush in Hydrating Coral and a gorgeous lipstick in Chiffon.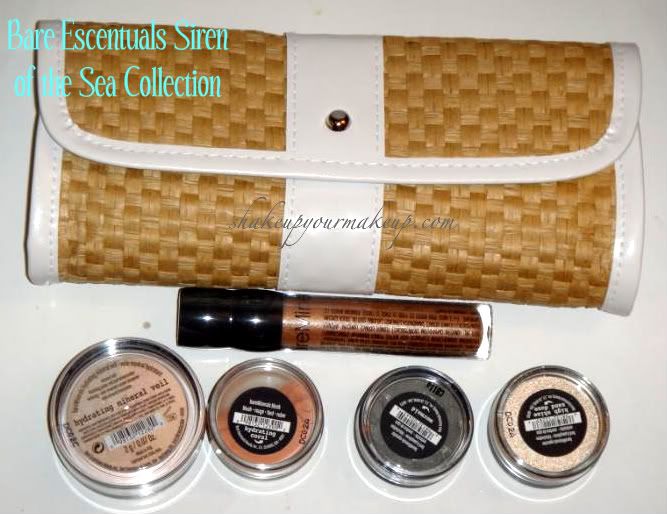 Below is the Hydrating Mineral Veil.  I'm not sure that the picture captures the "glow" that you can achieve with this veil, but there is definitely something there.  It's not shimmer, per say, but instead just a little *umph* for the complexion.
The blush, Hydrating Coral, has no shimmer, but instead is a matte terra-cotta coral.  An absolutely beautiful color, this would look great on anyone, especially with a hint of a tan.  We'll have to see how it fares with me in the winter when I am ghostly pale!
I was immediately drawn to the turquoise color, Mermaid, which is apparently one of Bare Escentauls best blue/teals in their entire line!  Not only is it a more neutral color, there is a hint of a shimmer, but it is still dark enough to create a beautiful smokey eye or use it wet as a liner.
I think this might be my favorite color in the collection.  I was a little apprehensive at the appearance of High Shine Sand Dune at first because it looked like the "foiling" colors BE has had in the past (and the Solar Bits collection from MAC), which I found difficult to blend without just using your fingers.  I was pleasantly surprised when I actually applied, as it was no different than any other mineral eyeshadow I have used in the past - it applied simply and evening on the lid and is an absolutely stunning light taupe color with tons of shimmer.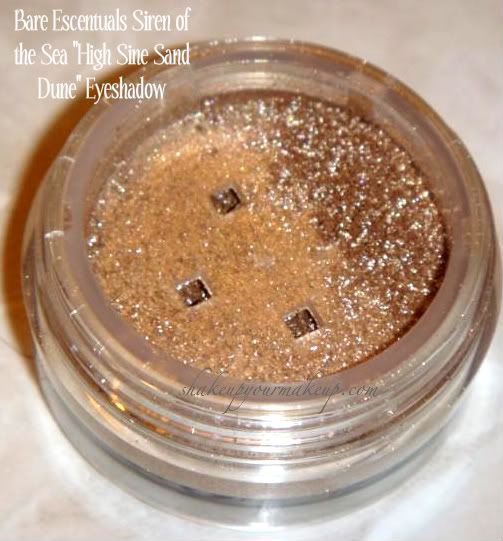 Below are all the swatches.  I tried layering the Hydrating Mineral Veil in hopes of you seeing the "glow" I keep talking about, but instead I think it just looks chalky in the picture.  Everything else is absolutely gorgeous!  The other thing I didn't swatch out on my lips is the natural lipgloss in Chiffon, which is a gorgeous, neutral golden beige.  An absolutely stunning color on it's own, this would also be a great layer on top of another color to add some warmth or shimmer as well.
I used the suggested look in the pamphlet that the kit comes with, which basically created a smokey eye using the Mermaid in the outer corner and halfway from the outer corner into the crease.   I also used Mermaid to line my lower lashline, but did this dry, whereas I used it wet on my upper lashline.  The rest of my lid has the High Shine Sand Dunes.  I used the blush as well, which created a natural color to my cheeks.  And, again, the lipgloss is a huge hit with me!