QVC's Bare Escentuals TSV - FOTD
9:37 AM
As promised, here are the actual photos and swatches from the Bare Escentuals "Today's Special Value" I ordered on QVC the other day. I was so excited when I saw the colors in person - they are perfect colors for a light, smokey look without having to dip into blacks or silvers.



Bare Escentuals Blush "Courage"
Courage is a nice, warm but neutral coral color. It has a hit of shimmer, but not tons like True does. I really do like this color, as it adds just enough color to your cheeks! I used this with the angled blush brush that came in the kit, and love it. The brush is nice and fluffy, giving a very light coverage.

Bare Escentuals Eye Color "Idol" and "Hero"
These two colors compliment eachother very well. Idol is a deep lilac color, and Hero is a nice rosey mauve. I think that Idol would be a beautiful liner, as well, but in my FOTD below I used it as a crease and lid color to create a somewhat smokey look. Both have subtle shimmer, as you can see in the pictures above.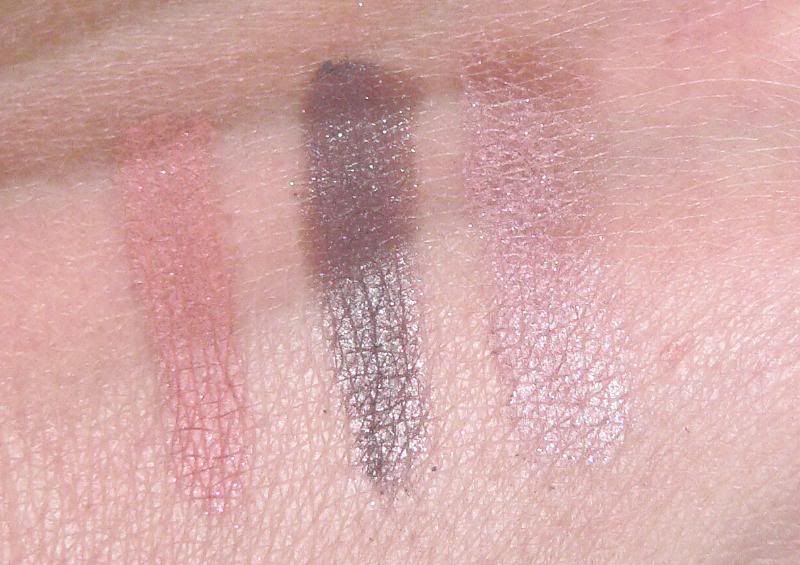 Swatches: Courage, Idol, Hero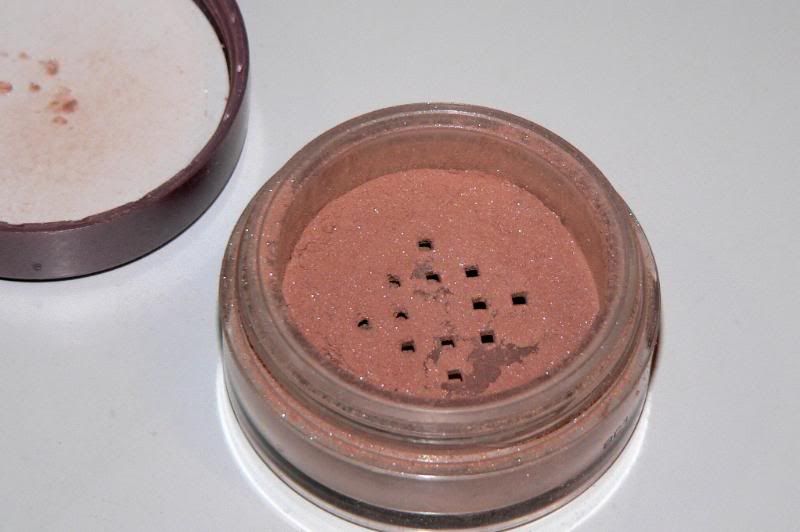 Bare Escentuals Tinted Feather Light Mineral Veil
Don't be fooled by the picture above, as I'm sure this looks like "Warmth" with some shimmer, but it truely is a Mineral Veil. There is a subtle bit of color to it, as opposed to the sheer white that the normal Mineral Veil is. Also, because this is the feather light, it has a bit of shimmer - not a lot, but just enough to add a natural glow to the skin. I loved the tinted mineral veil because in the summer I get a little tan, and this doesn't take away from the color of my foundation.
My FOTD is below...
Face:
Bare Escentuals Foundation "Medium"
Bare Escentuals Tinted Feather Light Mineral Veil
Bare Escentuals Blush "Courage"
Eyes:
Loreal DeCrease Eyeshadow Primer
Bare Escentuals "Hero" - foiled - lid
Bare Escentuals "Idol" - foiled in crease - dry on outer corner of lid
Bare Escentuals "White Gold" - dry as high light
Bare Escentuals Eyeshadow/Liner "Humor" - applied wet to top and bottom.
Lips:
Bare Escentuals Buxom Lipgloss "Zena"