Swatches: Bare Escentuals Ready 8.0 Pallet in Star Treatment
9:00 AM
An after Christmas present for myself, I saw that the Bare Escentuals Ready 8.0 Pallet in "The Star Treatment" was on sale at Sephora, so I picked it up. I actually gave this pallet to my mom for Christmas and loved the colors - plus, who can pass up a bargain?
The pallet comes packed with a small tube of Prime Time. I have used this in the past, and it works pretty well. Similar to most of the other eyelide primers out there in texture and consistency, but they do have some that are available with color and frost, which are used as an eyeshadow as well. For my swatches below, I did swatch the pallet on top of the Prime Time.
This pallet comes with eight neutral shades. Neutral, I guess is a matter of opinion - these are bold, metallic, golds, bronzes, taupes and browns. A gorgeous collection, and I really don't have any colors (pressed or loose) that are similar, with the exception of the ivory shade which reminds me a lot of the MAC Vanilla pigment.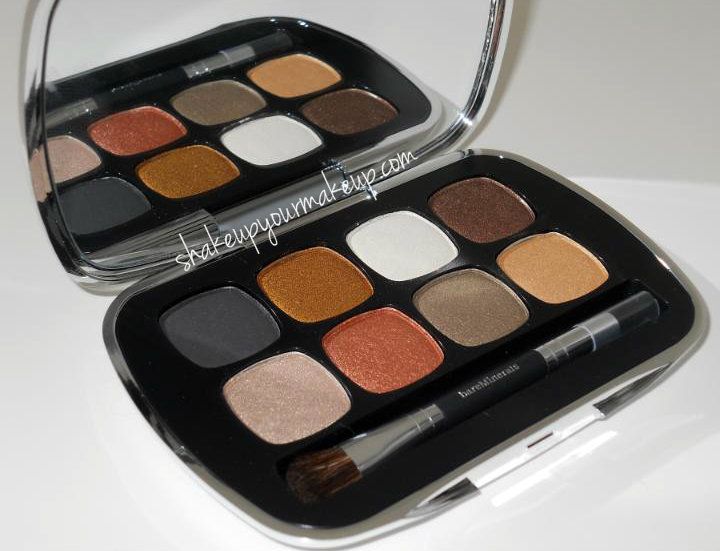 Below are some closeups of the colors. They are absolutely gorgeous. These are all frosts/metallics, although the black, below, is more of a matte black with golden glitter in it.
These four are easily going to be the most worn out of the bunch, for me. The taupe and brown are absolutely gorgeous in person, and work so well together.
The prime time is in a tiny little tube with a rounded doe-foot applicator, so you can easily spread this on to your eyelid straight from the tube, although I usually dab a little bit on my ring finger and apply that way. Prime Time is very smooth and easy to apply - no dragging or tugging as this isn't overly dry like some primers tend to be. It certainly amplifies the colors of these shadows, although when worn alone, they are just as striking.
Swatches of the pallet below, in order of the pallet. These are all over Prime Time.
How familiar are you with the Bare Escentuals Ready shadows? I have to say, I was and always have been a huge fan of the original Bare Escentuals loose mineral shadow formula. I tend to lean towards loose shadows in general. I will say, the formula on these Ready shadows is amazing. They are creamy, rich, pigmented, and easy to apply. There is no worry of inconsistent amounts of shadow coming onto the brush for application. The shadows aren't dry, so they apply evenly. The pigmentation is amazing and they lasted all day without creasing or fading. I am so happy I decided to purchase this pallet at Sephora - I find myself using these colors often and am loving each and every one of them!