Review: Maybelline EyeStudio "Silver Starlet" & EOTD
9:19 AM
After much deliberation, I decided to pick up one of the new
Maybelline EyeStudio
eyeshadow duos in "Silver Starlet". Actually,
Nouveau Cheap's review
of these shadows made me decide to pick one up! These remind me of the Laura Geller Baked Eyeshadow Duos, which I've reviewed numerous colors
here
. I was leaning towards the olive green duo, but decided to go outside the box a little bit, and picked up the silver/gray and pearl duo.
Upon first glance you can see that on the right-hand side, the pearl side is swirled with bronze, pink, periwinkle blue, ivory and even a bit of silver. The left hand side is a mixture of charcoal and hints of silver shimmer. I honestly didn't think these were going to be very pearlescent, but in reality, they were (swatches are below).
I took two different angles so you can see the larger shimmer (not chunky glitter, but really larger peices of shimmer) and the pearly-ness of the two shades. There was very little fall-out with these colors once applied to the eyes, too, which is an added bonus.
The silver charcoal shade looks just like it did in the pot. The pearl side actually blends to be a beautiful pinky biege highlight. It's not quite as dark as it appears in the swatch above - I think when the flash reflected back into the camera, it picked up more of the bronziness of the color, and not everything else. Hopefully my EOTD's below will help you see the true colors blended together. The pigmentation is fantastic! Both swatches are done dry, with no base underneath. The colors wear extremely well, without fading or creasing. I did apply it wet in my EOTD below, so it works extremely well foiled too! A very versitile eyeshadow at a drugstore price! Not bad!
Maybelline EyeStudio "Silver Starlet" - pearl side, all over lid / charcoal side on outer corner and crease / charcoal side foiled to outer "v" as well / charcoal applied dry to lower lashline.
Prestige Cosmetics Liquid Glitter Eyeliner "Starlit Black" - liner
LashBlast Mascara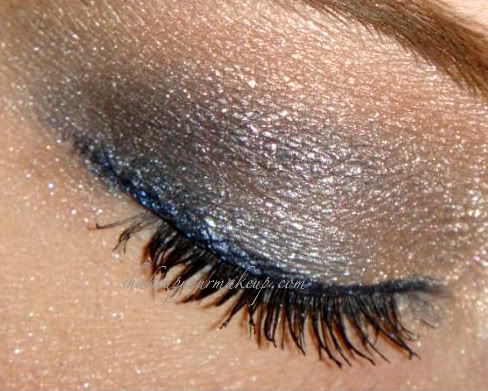 Retail Price
: $5.99-6.99 regularly - currently on sale for $4.99
Where to Purchase:
Local Drug Stores, Walmart, online
Product
: 5 out of 5
Price:
4.5 out of 5
Packaging:
4.5 out of 5
Overall:
4.5 out of 5
Would I purchase again?
Definitely! I was very pleasantly surprised with the quality, staying power, pigmentation and color variety with these shadows. The shadow I purchased is very smooth and creamy, and applied like a high-end shadow. I am very anxious to try out another shade, as well as the quads that are now available through the EyeStudio line.
Have any of you tried this line? I'd love to hear what you think!