Swatches: E.L.F. Waterproof Eyeliner Pen "Plum"
7:09 AM
Eyeliner comes in many shapes and forms: liquid, pencil, gel, and in the case of e.l.f.'s Waterproof Eyeliner...pen! I have tried numerous pens with very little success, mainly because they dry out so quickly or don't dispense enough liner to be effective.
Luckily, that's not the case with e.l.f. This is quite easy to use, has a nice flexible felt tip, and disperses quite a lot of liner - enough that it actually coats over the eyeshadow you have applied to the lid. And, it's actually waterproof! Like I said, this has a felt tip, but it is flexible, so it's almost like you've dipped a tip in liner to apply it. Also, because this is almost an "ink", it doesn't make a coat of liner on your lid that can flake off in the corners (think liquid liner), and actually does last all day without smearing or wearing off.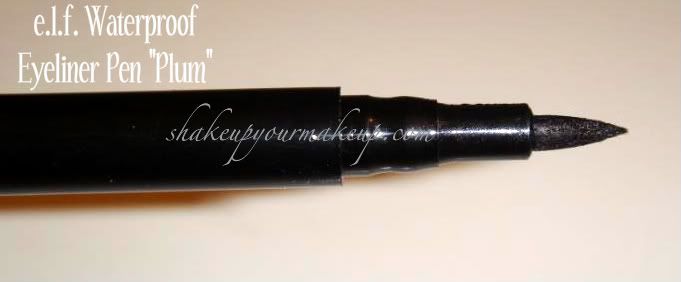 Here is a nice closeup of the actual pen. I did order this in plum, and as you can see by the swatch below, it is quite dark - almost black. I don't really gather the plum/purple color out of it, but I will say this isn't stark black, so if you are looking for a dark liner but don't want black, this would be a great option for you!
Would I buy this again? ABSOLUTELY! The pen is amazing, the lasting power is fantastic, and it's $1!!!! I can hardly say that about more expensive eyeliners!
Have you tried these liners? Any other colors? What are your thoughts?