Revlon Photo Ready Foundation "Ivory" - Swatches
8:21 AM
I will be the first to admit that I am not a liquid foundation person - between the difficulty in finding a shade that matches my pale skintone, the "mask" that a lot of them create when applied, or the fact that 90% of the foundation's I've tried turn to a nice Oompa-Loompa orange within hours of application, I ultimately became a mineral makeup wearer, and swear by Bare Escentuals. With that said, after weeeks (or possibly months) of reading the rave reviews about Revlon's PhotoReady Makeup, I decided I would venture outside the box and see what the hype was all about.
I will run a review in the next few days, but at least to start I wanted to get some pictures up and give you my preliminary thoughts.
The lightest shade I could find was Ivory, so that is the color I went with. This is a very neutral color, which I needed. It didn't lean cool or warm in my opinion. One of the complaints that I read about this foundation was that there were "sparkles" in it. Now, I think this depends on the shade you purchase. The Ivory didn't seem to have too much shimmer...at least not enough to make you look like a disco ball. Remember, the entire basis of this foundation is that there are "light reflecting" pieces that help give the illusion of flawless skin, so chances are there will be some sort of shimmer to the foundation, although minimal.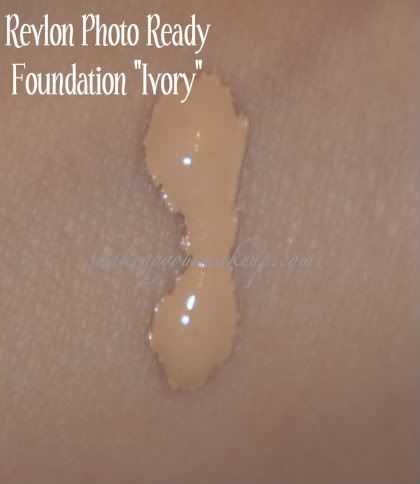 The swatch before blending (above) shows you the liquid consistency. This isn't extremely thick, but it isn't runny either. I'd put this as a medium consistency. You cannot really make out the specks of shimmer above, but once it is blended (below) you can see how this gives you quite an illuminated complexion. Please note, this image (below) is zoomed in quite far so you can make out the shimmer. When looking at yourself from a normal distance (lets say...in the mirror!), you just have the appearance of a healthy glow.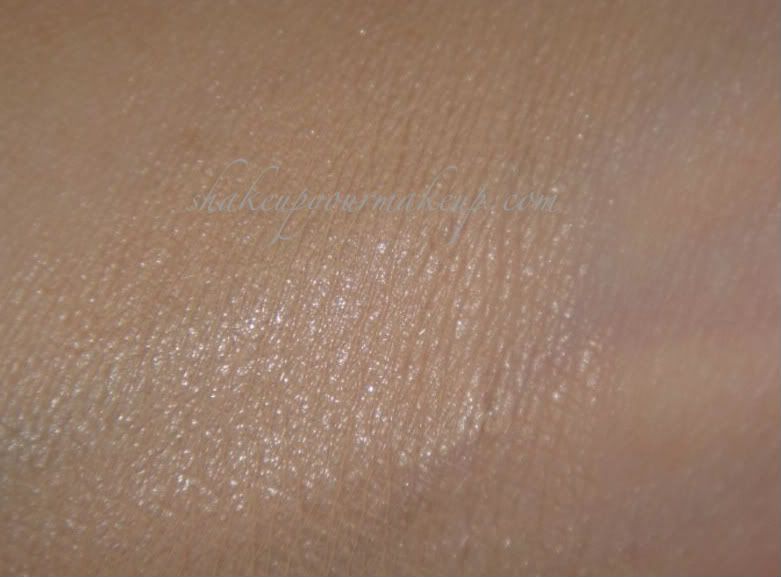 Although I will do an intensive review later, I have to say my first impression is quite good. The color blends well - you can build up the coverage, and it doesn't change to an orange color after use. I'm still getting used to the idea of wearing a liquid foundation, but on those days when I don't feel like messing with foundation and just need some sheer coverage, this seems to do the trick.
Who else has tried this? What are your thougths? I am using mineral veil over the top to set the foundation - what have you had success with?