I'm back...and the last of my Christmas goodies! Cargo Boogie Nights and Buxom Babes Holiday Escapades
9:56 AM
I am finally back! These past few weeks have been very hectic, and apologize for the mini-hiatus. I did find my battery, too, so as promised I am wrapping up my goodies from Christmas. Below are pictures of the Cargo Boogie Nights eyeliner set and the Bare Escentuals Holiday Escapades Buxom Babe collection. As always, you can click the images below to enlarge.
Cargo's Boogie Nights Eye Pencil collection is a set of gorgeous blues, silvers and purples, all infused with silver glitter. I was first introduced to Cargo this Christmas - between the Hands of Hope palette and this eyeliner set, I am absolutely in love with the brand. Just as the eyeshadows are, these eyeliners are very pigmented and creamy. When you apply them, there isn't any tugging or pulling, and the line goes on very smooth and dark. I love the purple and blue colors. I find it hard to get a good blue or purple, especially those that aren't too red. These are beautiful - the blue is a rich navy and the purple is just that...PURPLE! Add the Aqua and Silver and you really have a well rounded collection of cool-colored eyeliners.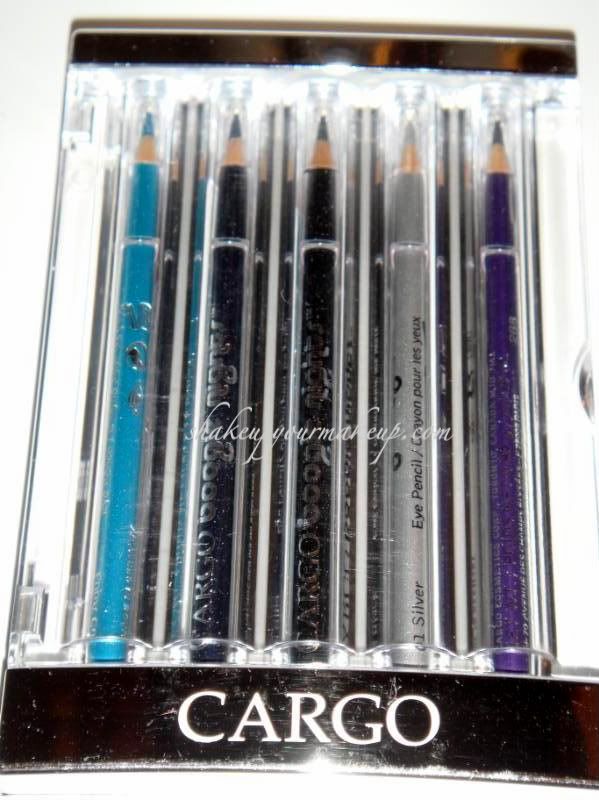 The Bare Escentuals Buxom Babes are some of my favorite lip glosses, and this collection is no exception. Not only are these the great formula that many have come to love, but they come in a convenient tube that easily can be stuck in your purse and not take up a lot of space. The Holiday Escapades set (below) comes in some gorgeous colors for the holidays, but really if you separate them, you'll see that these shades will work well into the spring and summer. Merry is a sparkely nude with pink glitter. Hope is clear frost packed with irridescent glitter. Holly looks just like it sounds - a perfect holiday red with red glitter. And Joy is a gorgeous champagne with white/frost glitter.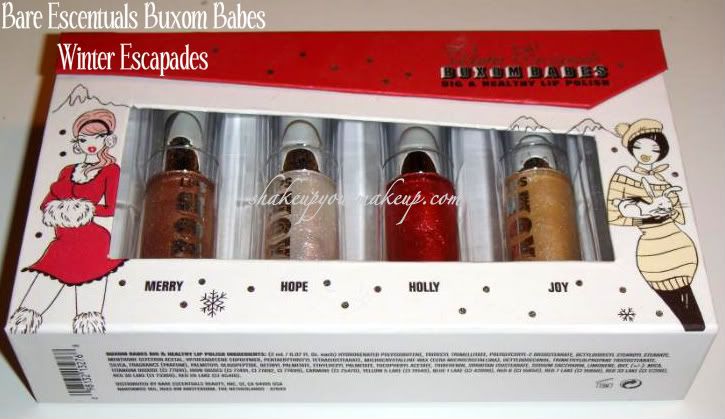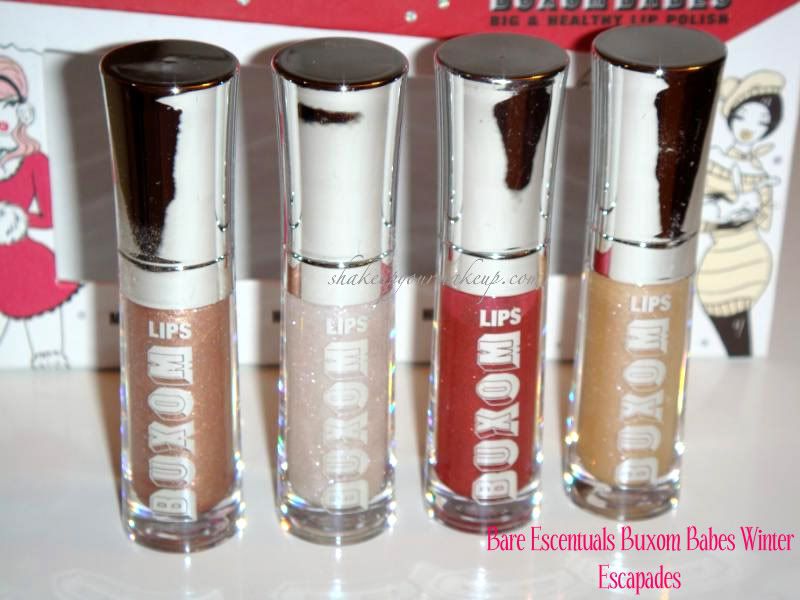 I love all of these - again, these are the Buxom lipglosses that we all have learned to love, but are kicked up a notch with all the frost and shimmer that are packed in these little tubes. Holly is a great way to add just a hint of color, and the others are just as beautiful ontop of a lipstick as they are on their own!
I have to say, I was very spoiled this Christmas - now I get to post all of them in use! :)