Another Christmas Goodie: Hard Candy Walk the Line Eyeliner "Night Sky"
10:32 AM
My sister knows me well: makeup and glitter, and whenever possible, combine the two! Hence, I present to you Hard Candy's Walk the Line Liquid Eyeliner in "Night Sky". She got this for me as part of my Christmas present, and it fits the bill of glitter and makeup.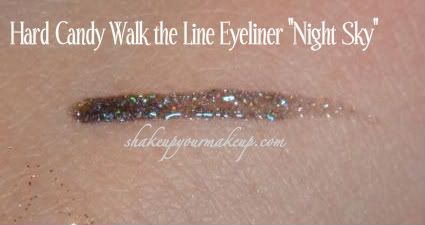 This color is very unique. A lot of times dark eyeliners that have glitter in them mask the actual sparkles, and therefore you end up with a black eyeliner or a brown eyeliner, but nothing else. Night Sky is very different. This is a charcoal color with irridescent glitter. I tried to show you how much depth there is - if you lay it on thick, you get a nice deep charcoal color with sparkles and charcoal shimmer. If you really pull it out, you can see how sheer it becomes and the glitter REALLY stands out. I played around with these a little bit, and because of this liner's complexity, it can be used on its own, layered, or on top of other shades to deepen and add some glitter. It really is pretty, wears well, and doesn't flake off. I like that it isn't jet-black either. I wear a lot of black, but sometimes it is nice to have a color that is a bit more subtle.
I haven't tried any of the other colors of these liquid eyeliners...have you? What are your thoughts?